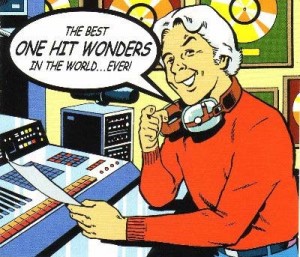 What is a one-hit wonder? That's a question I'm asked often at Top One-Hit Wonders.com.
One-hit wonders are wonderful things. Or obnoxious things. Sometimes they're both.
When it comes to music, my definition of a one-hit wonder is a song by an artist that only hits the Billboard Top 40 one time in their career. Need a few examples?
Classic One-Hit Wonders
"Turning Japanese" by The Vapors is a classic one-hit wonder. A huge new wave/pop hit in 1980, the song remains popular today (at least in some circles)
"Afternoon Delight" by The Starland Vocal Band is another classic. A #1 hit for this little feel-good band. Then nothing. No more hits. But the song is so well known it was sung by Ron Burgundy and the cast of Anchorman. As a songwriter, you know you've arrived when your little ditty becomes comic fodder 30 years later.
Special Event One-Hit Wonders
"Do They Know It's Christmas" by Band-Aid is a typical one-time band, one-hit wonder. A bunch of British artists get together to sing a song for charity. They release a single that climbs up the charts and gets major airplay for a short time (or, in this case, for 25+ years) and the band never plays together again.
"Hallelujah" by Justin Timberlake and Matt Morris is another example from the iTune era. It was the most downloaded song following the Hope for Haiti fundraiser in early 2010. While Timberlake is far from a one-hit artist, who knows if he and Morris will ever hit the tops of the charts again.
Two Hit Wonders (bands you think are one-hit wonders but actually have multiple hits)
"Come and Get Your Love" by Redbone fits this description. Everyone remembers this song; everyone forgets "The Witch Queen of New Orleans" that reached #21 on the charts in 1972.
"My Sharona" by The Knack is another late '70s classic. Virtually everyone you know loves or hates the song. And virtually everyone you know completely forgets the Knack's other hit titled "Good Girls Don't" that reached #11 on the Billboard charts (it's actually the better song of the two, but let's not argue. We're friends after all).
False One-Hit Wonders
There are many great bands that never reach the Billboard top 40. But they are still great bands and have a signature song that everyone knows and people may still call a one-hit wonder. Here are a few examples:
"A Million Miles Away" by The Plimsouls is the most famous song by this Los Angeles-based power pop band. If you know new wave music or have seen the movie Valley Girl, you know this song. It's a bona fide one-hit wonder that never charted.
"She Sheila" by The Producers is another one of these songs. This power pop classic was an early MTV hit, but all that airplay never translated to a chart placement higher than #48 on the charts. So technically, it's not a one-hit wonder. But we still love it.
Is this all making sense?
Remember this: some one-hit wonders are obvious ("Afternoon Delight"). Some are deceptive ("My Sharona"). But virtually all one-hit wonders are memorable.
Big Respect for One-Hit Wonder Artists
This is important: I have great respect for any artist who hit the Billboard Top 40 even one time. Most bands and artists are no-hit wonders. So the term "one-hit wonder" is a term of great respect, never scorn. For a little more perspective, here is some typically snarky footage from VH1 with artists and comedians weighing in on the term, "One-Hit Wonder."
Watch VH1's View on the Term One-Hit Wonder
The rock era began in 1956 and we're counting all the one-hit wonders down, one decade and one day at a time. So expect to find the following:
One-hit wonders of the 60s
One-hit wonders of the 70s
One-hit wonders of the 80s
One-hit wonders of the 90s
One-hit wonders of the 2000s
We'll even rank the greatest one-hit wonders of all time
It's our little mission to ensure that the one-hit wonder lives on. You can even watch one-hit wonder videos on the Top One-Hit Wonders YouTube channel. Stop there when you've read about all the songs here.
Michael Waterman