» 1980s, Rock » We're Not Gonna Take It – Twisted Sister
December 13th, 2011 | Add a Comment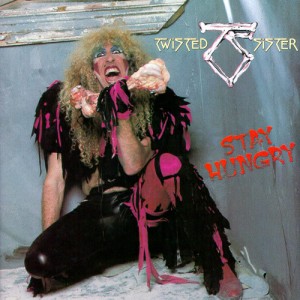 Twisted Sister had slogged the clubs in and around New York City for years in the 1970s, but it wasn't until they shifted operations across the Atlantic that they secured a record deal.
Their debut LP Under the Blade was initally released only in Europe (a remixed version showed up in this country after Stay Hungry became a big seller). Looking like a (New York D)olled-up version of Motley Crue, the flamboyant Twisted Sister with their loudmouth singer (Dee Snider) would, in 1984, briefly become so popular that for a while, like Elvis Presley or say, Alice Cooper, they engendered much fear and loathing among parents afraid their innocent little darlings would be corrupted by the big bad rock musicians. They need not have worried: By 1986, Twisted Sister had become a joke, a self-parody and everybody soon lost interest.
From that huge-selling Stay Hungry album, Twisted Sister's only Top 40 hit was "We're Not Gonna Take It," which hit Number 21 on the Billboard Top 40 in 1984. That made Twisted Sister heavy metal one-hit wonders.
Listen to We're Not Gonna Take It by Twisted Sister
Watch the official Twisted Sister video for We're Not Gonna Take It on YouTube
Although they were a one-hit wonder in the eyes of the Hot 100, another cut from Stay Hungry, "I Wanna Rock," missed the Top 40 but was probably their most famous song and years later would entangle Twisted Sister in another controversy: Atlanta Braves relief pitcher John Rocker would enter the game with "I Wanna Rock" blaring from the stadium loudspeakers, but after he made some controversial remarks to Sports Illustrated, Rocker became one in a long line of celebrities and sports stars (latest: Hank Williams, Jr.) to learn the hard way that microphones are treacherous and should be treated with respect, like handguns or chainsaws. Anyway, Twisted Sister no longer let John Rocker use "I Wanna Rock" after that debacle and he was never the same pitcher.
After Twisted Sister broke up in the late 1980s, Dee Snider formed the short-lived Widowmaker. Since then, Twisted Sister have reappeared from time to time.
Dee Snider is also the host of the syndicated radio program "House of Hair," which specializes in old-school metal from the halcyon days, primarily the late 1970s to around 1992. Recently Snider played Twisted Sister's version of "O Come All Ye Faithful." Yes, the bad boys of metal played a holiday classic. Perhaps they weren't so scary after all.
Listen: More heavy metal one-hit wonders
Buy We're Not Gonna Take It by Twisted Sister
I'm a long-time student of the history of rock music and its performers, and my favorite branch of the rock music tree is heavy metal.
Filed under: 1980s, Rock · Tags: 1980s one hit wonder, 1984 1 hit wonder, 1984 one-hit wonder, Dee Snider, heavy metal, heavy metal one hit wonder, rock one hit wonder, Twisted Sister, We're Not Gonna Take It