» 1970s, Rock » Venus – Shocking Blue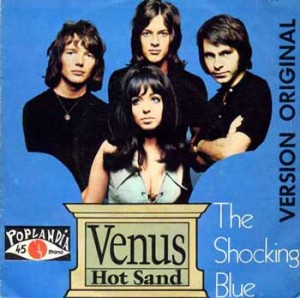 We love a good Dutch one-hit wonder. As far as we know, the first band from the Netherlands to break into the American Billboard Top 10 was Shocking Blue, a Dutch rock band that formed in 1967. Their biggest hit? Lets be honest: Shocking Blue only had this one hit. But what a great hit the seminal "Venus" was. It hit #1 on the Billboard Hot 100 in February 1970 and was a great fusion of acoustic guitar, cool electric piano and groovy vocals. It sounds like it was the inspiration behind the entire soundtrack of Mike Meyers' Austin Powers' movies.
It's a song so good, it's #4 on our list of the "Best Dutch One-Hit Wonder Songs."
But that's not all we can thank Shocking Blue for. Nope, thanks to Shocking Blue, we also got to enjoyed a reworked dance version of "Venus" by Bananarama in 1986 that also hit #1.
One song. Two number one placements. Sixteen years apart.
Click to hear other Billboard number-one hit one-hit wonders
Although many people rightfully remember Bananarama as a one-hit wonder, they actually reached the Billboard Top 10 three times: "Venus," "Cruel Summer" and "I Heard a Rumour." Perhaps they are one of the best-selling girl groups of all time.
Yet Bananarama and "Venus" are directly connected to yet another one-hit wonder: "Stay" by Shakespear's Sister reached #4 on the Billboard Hot 100 in 1992.
As far as Shocking Blue is concerned, they sold a ton of records in their short career: 13.5 million albums by 1973. But the group called it quits in 1974. Fortunately for the songwriter Robbie van Leeuwen, the royalty checks and cover versions continue to play on.
Click to read the "Venus" lyrics
Listen to "Venus" by Shocking Blue
Buy "Venus" by Shocking Blue
Filed under: 1970s, Rock · Tags: #1 song, 1970, Bananarama, Billboard number one hit, Deeper Shade of Soul, Diesel, Dutch one hit wonder, Focus, Hocus Pocus, number one song, one hit wonder, Sausalito Summernight, Shakespear's Sister, Shocking Blue, Stay, Urban Dance Squad, Venus