» 1990s, Rock » Until Your Love Comes Back Around – RTZ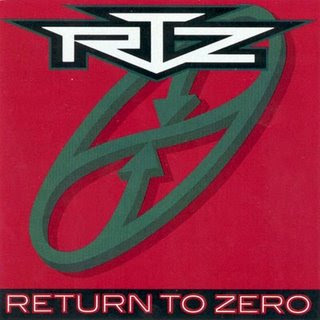 If you're one of very few who even remember this 1992 One-Hit Wonder and thought it sounded like an outtake from a Boston album, there's good reason: RTZ (Return to Zero) was formed by two ex-members of Boston–guitarist Barry Goudreau and the late lead singer Brad Delp.
In this day and age of artists releasing a new album every two to three years (that's IF you're lucky!), it might not seem unusual that following their 1976 debut, it took Boston over two years to release their second album Don't Look Back. But in the mid-to-late 1970s, an album every year was the norm. (Before the mid-'70s, artists recorded two or even–gasp! THREE albums in a year!)
But nobody even dreamed in their wildest imaginations that after Don't Look Back, Boston would essentially disappear from the face of the earth for a full eight years while mastermind Tom Scholz dinked around in the studio while at the same time developing the Rockman (a tiny portable amplifier), fighting a legal battle with Epic Records (who only wanted product, after all) and wrestling with unruly recording tape.
As all this was going on, Boston guitarist Barry Goudreau formed the first Boston spinoff band called Orion the Hunter, whose rare lone album sported a cool cover. Ironically, Orion the Hunter's lead singer Fran Cosmo would become Boston's lead singer on their own Walk On album in 1994! O what a tangled web Boston wove over the years…
When Boston's third album finally showed up in 1986 (Third Stage), it was a big seller and even generated a Number 1 hit ("Amanda"). But afterwards, it was another eight-year hiatus until the next album.
Apparently tiring of waiting for Scholz and Boston, Goudreau and Delp formed RTZ, and scored their one Top 40 hit in 1992 when their power ballad "Until Your Love Comes Back Around" reached Number 26 on the Billboard Top 40, making RTZ a one-hit wonder.
Record-label support waned, interests drifted and RTZ soon ended as a band once singer Delp re-joined Boston for their Walk On tour in the mid-1990s. Sadly, when Delp committed suicide in 2007, he guaranteed that RTZ is one band that won't come back around.
Listen to Until Your Love Comes Back Around by RTZ
Filed under: 1990s, Rock · Tags: 1990s one hit wonder, 1992 1 hit wonder, 1992 one hit wonder, Barry Goudreau, Boston, Brad Delp, one hit wonder love song, power ballad, RTZ, Until Your Love Comes Back Around