» 1980s, Rock » Turn Up the Radio – Autograph
January 27th, 2012 | Add a Comment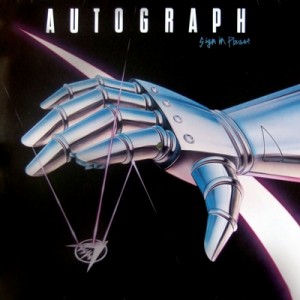 For much of the the 1970s, Los Angeles was known for softer pop-country-folk-rock hybrids such as the Eagles, The Carpenters, Bread, Rumours-era Fleetwood Mac and others.
But in 1978, a new heavy metal band from nearby Pasadena fired the first warning shot across the bow of LA-area mellow rock; Van Halen's debut album, featuring Eddie Van Halen's fiery guitar licks and David Lee Roth's howls punctuated by a blistering mix by Ted Templeman, quickly turned the heads of metal fans everywhere, snapping back to reality a following that was drifting.
Even as The Knack ("My Sharona") were trying to become the new Beatles (yeah, right), within a few years, dozens of new heavy metal bands had formed in Los Angeles or relocated there from elsewhere.
Many of these groups, influenced by Kiss, David Bowie and a new cable channel called MTV, used (and often overused) make-up and hair-styling mousse, thus the music made by them was dubbed "hair metal," often in a derogatory way (one LA band called Metallica supposedly fled to the Bay Area to escape being buried by all the styling mousse).
In the 1980s, Quiet Riot, Poison, Motley Crue, Warrant, Ratt (wondering why these guys aren't on toponehitwonders.com? "Lay it Down" was their second Top 40 hit, just squeaking in at Number 40 for one week, thus Ratt escape One-Hit Wonder status by that narrowest of possible margins), Faster Pussycat and many others had Top 40 hits; all culminating with Guns n' Roses. (Others such as Dokken never hit the Top 40 but sold lots of albums.)
One of the forgotten "hair bands" of the era is Autograph. Relatively little is known or remembered about this one-hit wonder; even Martin Popoff didn't write about them in his Collector's Guide to Heavy Metal books. But there is a one-hit wonder connection between Autograph and 1981 one-hit wonders, Silver Condor. Autograph's front man and lead singer was the rhythm guitarist of Silver Condor for their second album.
Yet again we connect the dots between two seemingly disconnected and unrelated bands.
Connecting the dots further between LA-based metal bands and this one-hit wonder, Autograph opened a number of shows for Van Halen in the mid-1980s–before Autograph's big hit happened.
"Turn Up the Radio" was a great song, peaking at Number 29; however it was Autograph's only song to turn up in the Top 40 and all too soon, nobody was asking the members of Autograph for their autographs.
Listen to Turn Up the Radio by Autograph
But that one big hit ended up helping Autograph sell more than 1 million copies of their debut album, Sign in Please, and Autograph lead guitarist Steve Lynch's two-handed, fretboard tapping solo was recognized by Guitar Player Magazine as "Guitar Solo of the Year."
And still one more connection for you: "Turn Up the Radio" appeared in an episode of Miami Vice. Savvy one-hit wonder aficionados recognize the "Miami Vice Theme" by Jan Hammer as an instrumental one-hit wonder from 1985.
"Turn Up the Radio" is a largely forgotten of the 1980s pop-metal era. But thanks to Dee Snider, the song still finds its way onto the radio once in a while, turned up nice and loud, of course.
Listen: More heavy metal one-hit wonders
Buy Turn Up the Radio by Autograph
I'm a long-time student of the history of rock music and its performers, and my favorite branch of the rock music tree is heavy metal.
Filed under: 1980s, Rock · Tags: 1980s one hit wonder, 1985 1 hit wonder, 1985 one hit wonder, Autograph, heavy metal, heavy metal one hit wonder, Rock, rock one hit wonder, Silver Condor, Turn Up the Radio, You Could Take My Heart Away