» 1980s, Rock » Tired of Toein' the Line – Rocky Burnette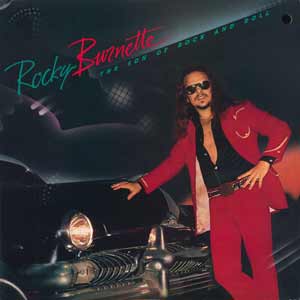 For a brief time in the late 1970s and early 1980s, rockabilly was cool in the United States.
The brilliant "Cruel to be Kind" by Nic Lowe hit #12 on the Billboard Top 40 in 1979, making Lowe a one-hit wonder.
The Stray Cats had a buncha hits in 1983 that ultimately led to fame and fortune for guitarist and lead singer Brian Setzer who became a one-hit wonder himself when "Jump, Jive and Wail" reached #23 on the Billboard Top 40 in 1998.
And today's entry, "Tired of Toein' the Line" by Rocky Burnette, reached #8 on the Billboard Top 40 in 1980 making Rocky Burnette a one-hit wonder.
Rocky Burnette is the son of Johnny Burnette, an early rock 'n' roller who found success with The Rock and Roll Trio and as a songwriter for 1950s teen idol, Ricky Nelson. He's also the songwriter of Ringo Starr's hit, "You're Sixteen" from 1973. So yes, the man got around before his untimely death in a boating accident in 1964.
Fast forward to 1980 when his progeny, Rocky, notched his one and only Billboard hit with "Tired of Toein' the Line." Although the song became a top 10 hit in America and an international hit with appearances on charts in Australia and South Africa, Burnette's mainstream success was fleeting.
His next few albums met with indifference and Burnette faded from the spotlight, although he did perform with the great Dwight Twilley band for some time, which indirectly connects Rocky Burnette to Twilley founder Phil Seymour who is a one-hit wonder for "Precious to Me."
Listen to "Tired of Toein' the Line" and see if you remember. It was all over the radio years ago and quite obscure today. It's another example of a forgotten one-hit wonder.
Click to hear more forgotten one-hit wonders
Listen to Tired of Toein' the Line by Rocky Burnette
Buy Tired of Toein' the Line by Rocky Burnette
Filed under: 1980s, Rock · Tags: 1980, Brian Setzer, Brian Setzer Orchestra, Cruel to be Kind, Dwight Twilley, forgotten one-hit wonder, Jump Jive and Wail, Nic Lowe, Phil Seymour, Precious to Me, Rock, rock one hit wonder, rockabilly