» 1990s, Rock » Three Little Pigs – Green Jelly
August 18th, 2012 | Add a Comment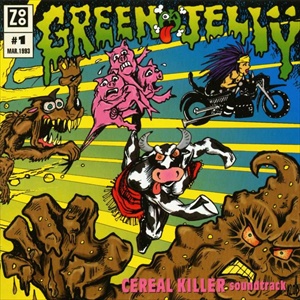 Today we celebrate another novelty song and heavy-metal one-hit wonder with "Three Little Pigs" by Green Jelly.
Nursery rhymes and fairy tales have always been fodder for both feature films and animated shorts (how many dozens of old Saturday morning cartoons have spoofed "The Three Bears" or "Little Red Riding Hood"?).
It's the same for the pop chart where numerous songs based on fairy tales have made their mark. For our purposes we'll concentrate on two stories featuring the Big Bad Wolf.
In the original "Little Red Riding Hood" story, the wolf finds grandmas and little girls on the menu.
In 1966, six-time Billboard Top 40 hit-makers Sam the Sham and the Pharoahs of "Wooly Bully" fame (number 2 in 1965) had another number 2 hit with a version of "Little Red Riding Hood" that is little remembered today. In this version of the "Three Little Pigs," Mr. Big Bad develops a taste for pork chops (after all, they do say it is healthy to vary your diet). Sam the Sham and the Pharoahs again visited our hungry carnivore with "The Hair on my Chinny Chin Chin" (Number 22 in 1966, ironically following up "…Riding Hood").
Listen to Li'l Red Riding Hood by Sam the Sham and the Pharoahs
http://youtu.be/1JOwxnVoG6Q
Fast-forward to the 1990s and Green Jelly became a one-hit wonder with the only heavy metal comedy song to hit the Billboard Top 40, a whacked-out rendition of the "Three Little Pigs" story that reached number 17 on the Billboard Top 40 in 1993.
Listen to Three Little Pigs by Green Jelly
Originally known as Green Jello before the makers of the stuff took legal action and put the kibosh on that monicker, Green Jelly's twisted version of the fairy tale featured a Harley Davidson-riding Big Bad Wolf and in the longer album version, a pot-smoking pig that liked Bob Marley. In this version, Mr. Big Bad met his demise at the hands (and guns) of Rambo instead of becoming Wolf Flambe.
Green Jelly would never hit the Top 40 again but rumors persist that the Big Bad Wolf not only survived but became a vegetarian after deciding he had had enough of pissed-off pigs.
The history of Green Jelly/Green Jello is far too complex to cover in detail here. But amazingly, this comedy heavy metal band actually garnered a Grammy Award nomination for long-form video and was sued not only by Kraft Foods, makers of Green Jello, but also the Kellogg Company for trademark infringement when they used the Toucan Sam character from Froot Loops on the early version of their Cereal Killers album (they called the character Son of Toucan Sam).
Read more about Green Jelly here
Check the Green Jelly YouTube channel
Hear more: heavy-metal one-hit wonders
Hear more: novelty songs
Buy Three Little Pigs by Green Jelly
I'm a long-time student of the history of rock music and its performers, and my favorite branch of the rock music tree is heavy metal.
Filed under: 1990s, Rock · Tags: 1990s 1 hit wonder, 1990s one hit wonder, 1993 1 hit wonder, 1993 one hit wonder, Green Jello, Green Jelly, heavy metal, heavy metal one hit wonder, novelty hit, novelty song, rock one hit wonder, Three Little Pigs