» 1990s, Rock » The Lumberjack – Jackyl
August 2nd, 2012 | 4 Comments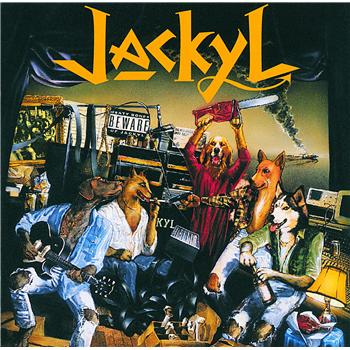 Editor's note: "The Lumberjack" by Jackyl is not a true one-hit wonder. Though if you ask people about the band Jackyl, "The Lumberjack" is often the only song they know. Our resident heavy metal expert Jim Barton pays tribute to this unique song.
Just for fun, let's take a look at a song that was never a Top 40 hit, but I think the novelty angle of a chainsaw being used as a musical instrument is enough to include the song here.
Yes, chainsaw.
When Jackyl's debut album came out in 1992, "The Lumberjack" quickly pricked up a lot of ears and gained much airplay with its distinctive chainsaw solo.
Read that again…chainsaw solo.
Amazingly, chainsaw player ("chainsaw-ist"?) and singer Jesse James Dupree somehow even managed to make the chainsaw sound musical, at least as chainsaws go.
With "Down on Me" (not the old Janis Joplin song) and "I Stand Alone" also gaining radio airplay on rock stations, Jackyl's debut album, Jackyl, quickly went platinum. But even as the Seattle grunge scene was rapidly clearing the premises of hair metal, it was "The Lumberjack" that provided a sly bit of fun for a while, although its allure diminished with each hearing. But hey, sometimes, ya gotta have a gimmick.
Hear more: Novelty songs
Hear more: Heavy metal one-hit wonders
Jackyl rocked on throughout the 1990s and even released an album in 2012. Yet it was that window of time between their 1992 debut and the 1994 follow-up Push Come to Shove that represents their most successful commercial period with Platinum and Gold records and a bunch of popular singles–none of which ever graced the Billboard Top 40 but remain anthems in their fans minds. And none is great than "The Lumberjack."
Follow Jackyl on their official website
Listen to The Lumberjack by Jackyl
Buy The Lumberjack by Jackyl
I'm a long-time student of the history of rock music and its performers, and my favorite branch of the rock music tree is heavy metal.
Filed under: 1990s, Rock · Tags: heavy metal, heavy metal one hit wonder, Jackyl, novelty, novelty hit, novelty song, Rock, The Lumberjack