» 1980s, Rock » The Future's So Bright, I Gotta Wear Shades – Timbuk 3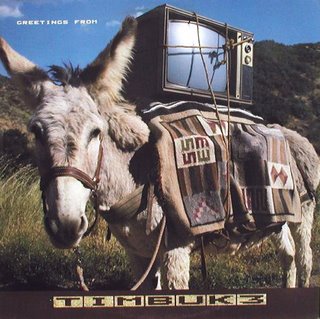 I lost my sunglasses today. Polarized, prescription, stylish sunglasses. Not cheap and not old. But they're not truly lost. They're just smashed beyond recognition from my trip to the car repair shop.
After plunking down more than $1,000 on a repair, I loaded my bag and coat in the car and failed to notice as my glasses fell to the ground. I then promptly ran over them. They're flat now. And my car repair is more expensive than I could have ever imagined.
So what song pops in my head? "The Future's So Bright, I Gotta Wear Shades by Timbuk 3. Ironic, yes. But that's what started my playing in my mind upon discovering my smashed shades.
As for the song itself, it's a classic one-hit wonder that reached #19 on the Billboard Hot 100 in 1986 and turned Timbuk 3 into one-hit wonders.
My friends loved it for a few weeks, then promptly forgot about it. I don't know anyone who bought the Greetings from Timbuk 3 album. But lots of us owned the 45 rpm single and played it loud on our turntables (somehow the world before CDs and MP3s was a kinder, gentler place).
The husband-wife team of Timbuk 3 actually had a long career and recorded six critically acclaimed albums. Unfortunately, they're all out of print besides Field Guide: Some Of The Best Of Timbuk 3. But let's be honest, all you really need to know about them is this song.
Now all I really need to know is where to find a good pair of replacement sunglasses. Because right now, my eyewear prospects are looking pretty dim.
Listen to "The Future's So Bright (I Gotta Wear Shades)" by Timbuk 3
Watch the original video for "The Future's So Bright (I Gotta Wear Shades)" by Timbuk 3
Buy The Future's So Bright, I Gotta Wear Shades by Timbuk 3
Filed under: 1980s, Rock · Tags: 1986, New Wave, Rock, sunglasses, The Future's So Bright I Gotta Wear Shades, Timbuk 3