» 1970s, Rock » The Boys are Back in Town – Thin Lizzy
September 5th, 2011 | 1 Comment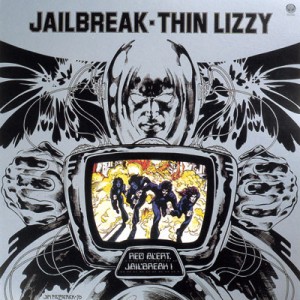 A heavy metal band from Ireland with a black lead singer/bassist (the late Phil Lynott, RIP 1986), Thin Lizzy was truly unique.
They are also another one of those artists that radio forgets recorded and played more than one song, in this case, "The Boys are Back in Town." Other great songs include "Jailbreak" (at least Ariel, my pathetic bar band on Kauai thought "Jailbreak" was great when we were butchering it every night as a cover band that played Thin Lizzy, Foghat (an obscure one called "High on Love") and Van Halen ("Ain't Talkin' 'Bout Love") when other local bands were covering Sheena Easton, Kenny Rogers or Air Supply on the Kapaa to about the Koloa/Poipu/Kalaheo area on Kauai).
Other great Thin Lizzy songs include "Hollywood," "Thunder and Lightning," "Cold Sweat," and "Emerald."
Live and Dangerous is considered to be one of the all-time greatest live albums, although I prefer the rawer sound of a later live album, the little-known LifeLive.
But enough Thin Lizzy and Ariel trivia for you.
"The Boys are Back in Town" was a perfect summer song in 1976, reaching Number 12 on the Billboard Top 40.
Listen to The Boys are Back in Town by Thin Lizzy
Though it was the band's only US Top 40 hit (making them a one-hit wonder), the song about Dino's Bar & Grill is still enormously popular 35 years later.
Though Thin Lizzy's success was limited in the United States, they were huge in England where they notched 13 top 30 hits on the British charts.
Think of them as a British one-hit wonder (at least to American listeners).
Click to hear more British one-hit wonders
Click to hear more rock one-hit wonders
Thin Lizzy was a highly influential band: According to metal expert extraordinaire Martin Popoff, Def Leppard began their career as a Thin Lizzy and UFO cover band, while one of the highlights of Metallica's 1998 Garage, Inc. album of cover versions is their remake of Thin Lizzy's first British hit "Whiskey in the Jar"–itself a cover version of an ancient Irish folk ballad!
Buy The Boys are Back in Town by Thin Lizzy
I'm a long-time student of the history of rock music and its performers, and my favorite branch of the rock music tree is heavy metal.
Filed under: 1970s, Rock · Tags: 1970s 1 hit wonder, 1970s one hit wonder, 1976, 1976 1 hit wonder, 1976 one hit wonder, British, British band, British one-hit wonder, heavy metal, heavy metal one hit wonder, Irish, Irish one-hit wonder, rock one hit wonder, The Boys Are Back