» 1990s, Rock » The Ballad of Jayne – L.A. Guns
April 30th, 2012 | Add a Comment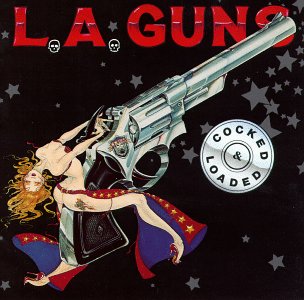 Time for a history lesson about L.A. Guns and their place in heavy metal lore.
Long before the Los Angeles hair-metal scene, there was the New Wave of British Heavy Metal, a movement that launched the careers of the famous (Def Leppard, Iron Maiden) to the cult favorites (Motorhead, Saxon) to the obscure (Tank, Raven). Then there was Diamond Head, whose songs Metallica lovingly covered in their garage-band days and later made famous by remaking them for albums such as Garage, Inc.
One of the more obscure bands from the NWOBHM was a group called Girl, whose main claim to fame was supplying two of its members to more famous bands. Guitarist Phil Collen (not to be confused with Phil Collins of Genesis, of course) replaced Steve Willis in Def Leppard just in time for that group's Pyromania album. And singer Phil Lewis would ultimately end up in Los Angeles, fronting L.A. Guns (named after guitarist Tracii Guns).
Members of an early version of L.A. Guns teamed up with ex-members of another group called Hollywood Rose to form Guns n' Roses. Yes, the Guns 'n Roses, a band that was enshrined in the Rock 'n' Roll Hall of Fame in 2012.
One of the earliest lineup of Guns n' Roses includes W. Axl Rose on vocals, Tracii Guns on guitar and Izzy Stradlin on guitar. An impressive feat getting those three guys in the same room. Yet the union was short-lived an Guns soon left the band.
Once G N'R hit the big time, a new version of L.A. Guns briefly rode their coattails to short-lived fame of their own, scoring their only Top 40 hit when "The Ballad of Jayne" reached #33 on the Billboard Top 40 in 1990.
In "The Ballad of Jayne," we find another song with the endurance of an Iron Man Triathlon winner (also see "House of Pain" by Faster Pussycat). Though it only reached Number 33 (in 1990), "The Ballad of Jayne" spent an incredible 22 weeks on the Hot 100, actually beating out the Faster Pussycat song by one week!
Listen to The Ballad of Jayne by L.A. Guns
Bonus one-hit wonder connections
In our ongoing quest to prove that all one-hit wonders are somehow connected, add L.A. Guns and "The Ballad of Jayne" to the list. The similarity to Faster Pussycat is not limited to chart success only; several members of Faster Pussycat were members of L.A. Guns during its long and complicated history.
Alert readers will remember that Faster Pussycat reached the Billboard Top 40 in 1990 when "House of Pain" reached #28 on the Billboard Top 100.
Read and hear: "House of Pain" by Faster Pussycat
buy The Ballad of Jayne by L.A. Guns
I'm a long-time student of the history of rock music and its performers, and my favorite branch of the rock music tree is heavy metal.
Filed under: 1990s, Rock · Tags: Faster Pussycat, Guns 'n' Roses, heavy metal, heavy metal ballad, heavy metal one hit wonder, House of Pain, L.A. Guns, LA Guns, power ballad, The Ballad of Jayne