» 1980s, Rock » Stone Cold – Rainbow
October 27th, 2011 | Add a Comment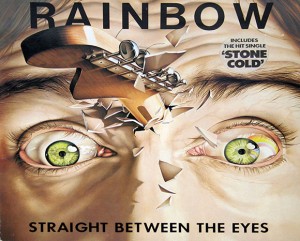 Get out your air guitars: Featuring "The Mother of All Riffs," Deep Purple's most famous song "Smoke on the Water" was one of those songs that took a while to show up on the Hot 100; in this case more than a year after its parent album Machine Head was released.
"Smoke on the Water" shot to Number 4 in 1973 (I was eleven then and thought it was the greatest song ever written; nearly 40 years later I still love it), but by 1974, Deep Purple had both a new bassist and singer, who took the band in a more R&B-influenced direction.
Less than thrilled at this new direction, guitarist Ritchie Blackmore quit Deep Purple, teamed up with a band called Elf and changed their name to Rainbow.
In 1975, Rainbow's debut album was released, but the record had barely been placed in its jacket when Blackmore booted everybody out except the singer, a young man named Ronnie James Dio. Thus began a rock biographer's nightmare as Rainbow was one of those bands that featured a new line-up for every album, with Blackmore the only constant.
By 1979, Dio had joined Black Sabbath, and after one album with Graham Bonnett, Joe Lynn Turner became Rainbow's permanent singer.
The group moved in a more pop direction and in 1982 notched their only Top 40 hit with "Stone Cold," a song that sounded so much like Foreigner, many people mistakenly assumed Foreigner had a new hit song.
"Stone Cold" peaked at Number 40 for one week; you literally can't have a worse performance on the Top 40, but it still qualifies Rainbow as a one-hit wonder.
Listen to Stone Cold by Rainbow
My fondest memory of this song goes back to 1982, late one evening driving home from a performance with our bar band Ariel. The AM-only car radio was tuned to one of Kauai's local radio stations, where a DJ named "Jammin' Jason" played music otherwise never heard on AM, such as AC/DC and Ozzy Osbourne. I was driving past the hotels in Poipu, "Jammin' Jason" was playing "Stone Cold" and in the eastern sky, the planet Jupiter shone like an airplane landing light outside the windshield. Suddenly, a brilliant meteor ("shooting star") slashed across the sky, actually passing directly in front of Jupiter and as bright as the planet, if not brighter! A gorgeous sight, one never to be forgotten.
Sadly, "Stone Cold" is generally forgotten by nearly everyone except Rainbow fans.
Buy Stone Cold by Rainbow
I'm a long-time student of the history of rock music and its performers, and my favorite branch of the rock music tree is heavy metal.
Filed under: 1980s, Rock · Tags: 1980s 1 hit wonder, 1980s one hit wonder, 1982 1 hit wonder, 1982 one hit wonder, Black Sabbath, Deep Purple, heavy metal, heavy metal one hit wonder, Rainbow, Ronnie James Dio, Stone Cold