» 1990s, Rock » Silent Lucidity – Queensryche
July 1st, 2012 | Add a Comment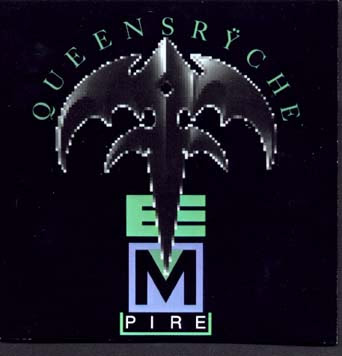 Boasting one of the all-time greatest metal vocalists in the multi-octave Geoff Tate (he had studied opera), Queensryche stormed out of the gate in 1983 with a four-song EP titled Queen of the Reich that was re-released a short time later on EMI.
Unfortunately, Queensryche's debut album, The Warning, found the band bunting rather than swinging for the fences (although "Take Hold of the Flame" featured a stunning vocal performance by Geoff Tate and was a progressive-metal masterpiece).
For a while the band would only attract a small cult following.
This all changed in 1988 with Operation: mindcrime, a convoluted but excellent heavy-metal opera. With its spooky Orwellian atmosphere, Operation: mindcrime generated no Billboard Top 40 hits but brought Queensryche into the big time. In fact, Kerrang! magazine ranked Operation: mindcrime #34 on their "100 Greatest Heavy Metal Albums Of All Time"
It was Empire in 1990 that generated Queensryche's lone moment in the Top 40 thanks to "Silent Lucidity," a mellow ballad that sounded like an outtake from Pink Floyd's The Wall.
"Silent Lucidity" reached Number 9 on the Billboard Top 40 in 1991, pushing its parent album into the Top 10 and making Queensryche a one-hit wonder.
Listen to Silent Lucidity by Queensryche
Watch original Silent Lucidity by Queensryche on Vevo

TRIVIA NOTE: Listen to the soft cellos at the end of this song: they're playing a piece of Brahm's "Lullaby."
Perhaps attempting to repeat this success, Queensryche responded with a string of surprisingly mellow albums and when those proved to be poor sellers, tried again with Operation: mindcrime II, an unnecessary sequel to the original, which had all the magic.
Yet "Silent Lucidity" remains a classic rock and metal classic and heavy metal one-hit wonder.
Listen to more heavy metal one-hit wonders
Buy "Silent Lucidity" by Queensryche
I'm a long-time student of the history of rock music and its performers, and my favorite branch of the rock music tree is heavy metal.
Filed under: 1990s, Rock · Tags: 1990s one hit wonder, 1991 1 hit wonder, 1991 one hit wonder, Geoff Tate, heavy metal, heavy metal one hit wonder, Pink Floyd, Queensryche, rock one hit wonder, rock opera, Silent Lucidity