» 1980s, Rock » Radioactive – The Firm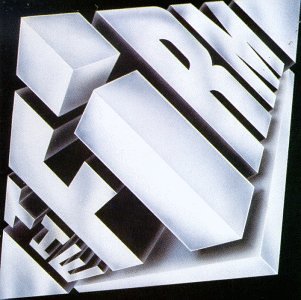 Author's note: Though I never owned either of The Firm's two LPs, I have heard them in their entirety. And like many Led Zeppelin and Bad Company fans, I had salivated at the prospect of Jimmy Page and Paul Rodgers teaming up in The Firm! With that kind of talent, surely the music couldn't be anything less than brilliant, right? Well…
Supergroups always seem like a good idea at the time, but most end up being a waste of time. However, few supergroups were launched with so much fanfare only to fall as flat on their faces as The Firm.
Seldom had there been a bigger waste of time, vinyl and talent than when Jimmy Page and Paul Rodgers teamed up as The Firm: Imagine the world's surprise when what emerged was dull, uninspired blues-based rock that was about as exciting as a hospital gown.
Ex-members of Free, Bad Company, The Yardbirds and Led Zeppelin got together for this? Remember, Free gave the radio waves their one hit, the rockin' "All Right Now." A much better song than anything from The Firm's debut album.
The Firm's only Top 40 hit emerged from their debut–the laughable "Radioactive." Propelled by sloppy acoustic guitar, plodding, sleepy drums, dreary vocals and synthesized hand claps that sounded like one of those newfangled compact disc players getting stuck (in 1985, the CD was just beginning to take off), "Radioactive" peaked at number 28 on the Billboard Top 40, which qualifies the Firm as a one-hit wonder even though Page and Rodgers had numerous Top 40 hits with their earlier bands.
We're adding it to our list of the worst one-hit wonders ever. Not because it's the worst song but because it's an example of great talent completely squandered on a completely forgettable song.
Listen: Worst one-hit wonders
Listen to "Radioactive" by The Firm
After their second album, The Firm broke up, leaving a lot of people scratching their heads in utter bemusement. Oh well, it seemed like a good idea at the time.
Trivia note: Just after the Rodgers/Page Firm broke up, another group called The Firm had a huge British hit with a novelty song called "Star Trekkin'." "Star Trekkin'" never hit the Billboard Hot 100 but was for many, many years a fixture on "The Dr. Demento Show," always showing up in his "Funny Five" countdown. It's a measure of how bad the Rodgers/Page Firm was that the other Firm who sang about the Starship Enterprise had actually recorded a more enduring song! Now if you'll excuse me, I've got Klingons on the starboard bow, starboard bow again.
Listen to Star Trekkin' by The Firm
Buy "Radioactive" by The Firm
Filed under: 1980s, Rock · Tags: 1980s one hit wonder, 1985 1 hit wonder, 1985 one hit wonder, Dr. Demento, Free, Jimmy Page, Led Zeppelin, Paul Rodgers, Radioactive, Rock, rock one hit wonder, Star Trekkin, supergroup, The Firm, worst one hit wonders