» 1980s, Rock » Paper in Fire – John Cougar Mellencamp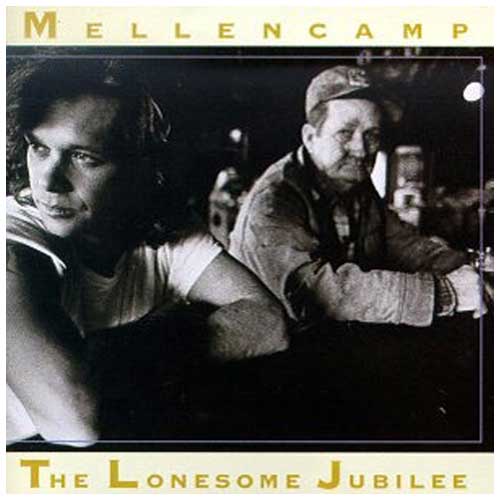 Editor's note: John Cougar Mellencamp or John Mellencamp is NOT a one-hit wonder. He has boatloads of hits. Sometimes I write about songs stuck in my head. This is one of those songs.
Earworms are strange things. I've never understood why or how certain songs start playing in my head. Take today's song, for example: "Paper In Fire" by John Mellencamp. It has been at least five years since I've heard that song. But it's rattling around my dome endlessly today.
I'm an unashamed Mellencamp fan. I liked him when he was John Cougar. I liked him when he was John Cougar Mellencamp. And I still like him today when he is simply John Mellencamp.
The guy can flat-out write a song. Yet the interesting thing is that people seem to hold his success against him. Or perhaps they didn't like the cheesy video for "Hurts So Good" from 1982 and those images of Mellencamp with the leather-clad bikers stayed with them—along with the accompanying prejudice.
In my mind, Mellencamp is a hall-of-fame songwriter who continues to improve over his long career. And his success is pretty amazing when you see it on paper. Here's a quick summary of his Billboard chart success:
• 22 Top 40 hits
• 17 Top 20 hits
• 10 Top 10 hits
Give the man his respect.
"Paper In Fire
" was the first single from Mellencamp's ninth album, The Lonesome Jubilee
. I remember being shocked the first time I heard it on the radio in 1987. It sounded like nothing else on the radio. This was the era of big-hair rock. Def Lepard. Bon Jovi. Heart. Big guitars. Big drums. Big choruses. Then there is "Paper in Fire" with its mix of rock guitars and Appalachian folk instruments – hammer dulcimer, mandolin, fiddle, dobro and accordion. It hit #9 on the charts and still sounds like no other top 10 song I can think of.
Great energy. Great passion. Great album and song. And lyrics that are relevant to today's materially focused, debt-ridden economy:
There is a good life
Right across this green field
And each generation
Stares at it from afar
But we keep no check
On our appetites
So the green fields turn to brown
Like paper in fire
Listen to "Paper in Fire" by John Cougar Mellencamp
Paper in Fire - John Cougar Mellencamp
Filed under: 1980s, Rock · Tags: 1987, John Cougar Mellencamp, Lonesome Jubilee, Paper in Fire, Rock