» 1990s, Rock » No Rain – Blind Melon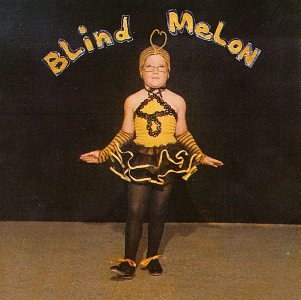 Some bands come together, write some songs, play some gigs, ingest lots of drugs and alcohol, make key connections with important people, write one big hit on their debut album, place that song in the Billboard Top 40, play big gigs, appear on the cover of Rolling Stone, release a second album and watch as the fortune and fame comes to a crashing halt with the overdose death of their lead singer and songwriter.
That's the story of Blind Melon.
The band formed in 1989, but it was the connection between Guns 'n' Roses' Axel Rose and Blind Melon's Shannon Hoon that first put this band on the rock 'n' roll map. Hoon sang backups on Guns 'n' Roses' Use Your Illusion albums at the time when Guns 'n' Roses were the biggest band in the world.
When Blind Melon released their debut album, Blind Melon, listeners largely ignored the record. Until a video with the world-famous "bee girl" hit heavy rotation on MTV. Suddenly stars were born (both Blind Melon and bee girl, Heather DeLoach).
If you were alive in 1993 and have never seen the video for "No Rain," I'm certain you were either raised in a home without TV or were part of a witness protection program and living somewhere in Bangladesh.
That. Song. Was. Everywhere.
The record sold 4 million copies. And it's really not a very good record, although Melonheads would disagree. But "No Rain" was a very good song propelled by a really good video at a time when having a good song and a good video could lead to multi-platinum status.
You likely know the rest of the story. Blind Melon was riding high and had just released their second record, the poorly titled and selling and much darker Soup when lead singer Shannon Hoon was found dead on the band's tour bus. The culprit? A heart attack due to a cocaine overdose. Hoon was 28 years old.
Although Blind Melon attempted to solider on, the band was effectively finished. But "No Rain" remains a wonderful happy slice of early '90s hippie groove music that still makes me smile. It reached #20 on the Billboard Hot 100, making Blind Melon a one-hit wonder.
Click here to read the "No Rain" lyrics
Listen to "No Rain"
No Rain – Blind Melon
Listen to "No Rain" Acoustic by Blind Melon
Filed under: 1990s, Rock · Tags: 1993, bee girl, Blind Melon, dead rock star, Guns 'n' Roses, MTV, No Rain, one hit wonder, R.I.P., Rock