» 1970s, Rock » New York Groove – Ace Frehley
September 27th, 2011 | Add a Comment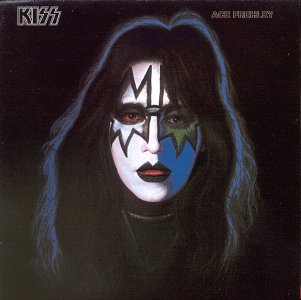 Editor's note: Here is another post from Jim Barton, our resident rock and metal one-hit wonder expert.
Because "New York Groove" was a song from a one-off solo project and guitarist Ace Frehley was a still-active member of Kiss when he had this solo hit, I originally wasn't going to include it, as I personally don't count such songs as true one-hit wonders. But after some debate, we decided "New York Groove" belongs on Top One-Hit Wonders.
Besides, adding "New York Groove" would enable us to look at a true one-of-a-kind: The only Top 40 hit from any of the four simultaneously-released Kiss solo albums that showed up at record stores in 1978 amid much ballyhoo and hoopla, only to quickly end up gathering dust and spider webs.
Remember all those Kiss solo albums clogging the cutout bins? Gene Simmons, Paul Stanley, Peter Criss and Ace Frehley each released a solo album at the same time and amazingly, the only record to contain an actual hit was Ace Frehley's. I never owned any of these records and in all my life, I've known exactly one person who had any of them, an out-an-out "Kiss-aholic" who actually possessed all four.
Granted, Kiss was enormously popular in 1978, but if Casablanca Records had any common sense, they wouldn't have shipped out far more of the solo albums than anybody could possibly have wanted. Of course, we all know record labels aren't exactly known for using common sense.
To the song: Written by ex-Argent member Russ Ballard ("Since You Been Gone" and "You Can Do Magic"), "New York Groove" reached number 13 on the Billboard Top 40 in 1978, securing Ace Frehley's place in the world of one-hit wonders.
Listen to New York Groove by Ace Frehley
If video does not work, watch on YouTube

Perhaps because of the solo-albums disaster, Kiss themselves would soon lose their groove and over the next few years would gravy-train disco ("I Was Made for Loving You"), record some kind of odd concept album (Music From The Elder), lose Frehley (he would later form Frehley's Comet) and watch their record sales plummet, although the band would right the ship by 1983.
Today, Kiss is one of rock music's most iconic bands. They've made millions of dollars and sold millions of records and placed 9 songs on the Billboard Top 40.
But Ace Frehley is the only one of the bunch to hit the Billboard Top 40 with a solo hit. Sometimes truth is stranger than fiction.
Listen to New York Groove by Ace Frehley
If video does not work watch on YouTube
Buy New York Groove by Ace Frehley
I'm a long-time student of the history of rock music and its performers, and my favorite branch of the rock music tree is heavy metal.
Filed under: 1970s, Rock · Tags: 1970s 1 hit wonder, 1970s one hit wonder, 1978 1 hit wonder, 1978 one hit wonder, Ace Frehley, Gene Simmons, heavy metal one hit wonder, KISS, New York Groove, Paul Stanley, Peter Criss, Rock, rock one hit wonder