» 1980s, Rock » New World Man – Rush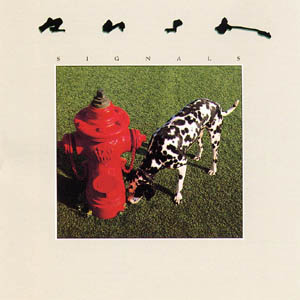 Sometimes bands can play for decades, amass huge fan bases, sell millions of records, and still only hit the Billboard Top 40 once.
Rush is one of these rare bands that continues to sell out halls today, more than 42 years after the first version of the band formed. Yet they've only charted a single top 40 hit. And that hit is "New World Man" from their 1982 release, Signals.
If you're a Rush fan (and chances are if you are indeed a Rush fan, you're a guy not a woman), my bet is that you wouldn't place "New World Man" in the top 5 songs Rush ever released. I'm guessing you'll place "Tom Sawyer" and "The Spirit of Radio" or even "Limelight" higher on the list. In fact, "Tom Sawyer" nearly hit the top 40 (it stalled at #44) one year earlier when Moving Pictures was selling faster than Rubiks Cubes in the early 1980s.
But rock fans vote with concert tickets and concert tickets don't always translate to hit singles. So even though Candian band Rush has sold more than 25 million albums in their long and successful career, "New World Man" makes them a bona fide one-hit wonder band.
Click to listen to more Canadian one-hit wonders
As a fan who has nearly the entire Rush catalog in my collection, I'm thrilled to add them to the list of one-hit wonders from 1982.
One other thing: check out Pearl Jam's creative theft of the riff from "New World Man" for their song "Rearviewmirror." Eddie Vedder owes Alex Lifeson a royalty check.
Listen to "New World Man" by Rush from Signals
New World Man – Rush
Buy "New World Man" by Rush
Filed under: 1980s, Rock · Tags: 1982, Canadian, Canadian band, Canadian one-hit wonder, Moving Pictures, New World Man, one hit wonder, Rock, Rush, Signals