» 1980s, Rock » New World Man by Rush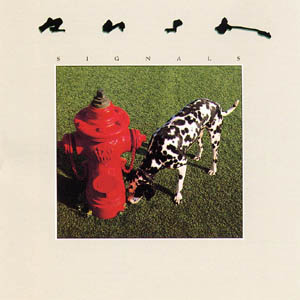 Editors note: Here is Jim Barton's take on "New World Man" by Rush. You can also read Michael Waterman's thoughts on the one song that made Rush a one-hit wonder.
Featuring three of the most amazing musicians ever to walk the planet, Rush have been a fixture on the album chart and concert stage for more than 35 years, selling millions and millions of albums and tickets. Their specialty is highly intellectual lyrics set to complicated music, with many of their songs in the six-minute-and-longer range.
Needless to say, Rush songs are not exactly suited to Top 40 radio, and in their long tenure, they've had only one Top 40 hit; the members of Rush themselves were probably surprised they managed even the one. But as one-hit wonders go, Rush are probably the most enduring artist ever to wear that label. For instance, though the band formed in 1968, they are still playing in sold-out arenas in 2011 and beyond. Personally, I saw them for the third time in June of 2011 when they played a show in Phoenix, and once more, they put on a hell of a show. I also saw them in 2004 and 2007.
With a reggae beat played by drummer Neil Peart, a throbbing synthesizer and chiming, Police-like guitar licks, "New World Man" really could pass for an outtake from Ghost in the Machine or Zenyatta Mondatta by The Police.
Listen to New World Man by Rush
"New World Man" from Signals peaked at Number 21 in 1982; thanks to one of those funny spins of the cosmic roulette wheel, the song spent exactly 12 weeks on the Hot 100. Some die-hard Rush fans reading this might even find deep, significant meaning in this odd statistic–perhaps a secret message from the "Solar Federation" themselves?
Aside from playing drums and composing lyrics for Rush, Neil Peart is also a marvelous writer who has written four books: Ghost Rider, Travelin' Music, Roadshow: Landscape With Drums and Far and Away. If you like reading about rock music but don't like the typical "rock star biographies" that concentrate on how many girls they slept with, or if you are a "road geek" whose idea of a fine time is just getting in the car and chasing highways and telephone poles, one or more of these books might be for you.
Read: Michael Waterman's take on New World Man by Rush
Buy New World Man by Rush
Filed under: 1980s, Rock · Tags: 1980s one hit wonder, 1982, 1982 1 hit wonder, 1982 one hit wonder, Canadian, Canadian band, Canadian one-hit wonder, Moving Pictures, New World Man, one hit wonder, Rock, Rush, Signals, The Police