» 1990s, Rock » Love Is on the Way – Saigon Kick
July 25th, 2012 | Add a Comment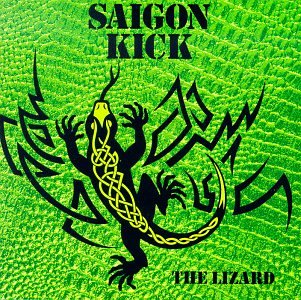 Saigon Kick hailed from Florida, a place that for some strange reason spawned the extreme genre known as "death metal," represented by groups such as Obituary, Morbid Angel, Death and other not-so-pleasantly named bands.
I wonder if the cause are those elderly drivers with their turn signals blinking for 20 miles? Or maybe it's alligators on people's lawns? Or perhaps all those hurricanes have made people bitter?
Saigon Kick from Miami were nowhere near as dark or extreme; they were more akin to the hair bands that were being cast aside in favor of grunge in the early 1990s even as "Love Is on the Way" would provide Saigon Kick's sole moment in the Top 40.
Listen to Love Is on the Way by Saigon Kick
With scarcely any electric guitar and only the occasional soft cymbal or drum flourish, "Love is on the Way" sounds more like something out of Nashville than heavy metal. Seriously, you can easily easily imagine Kenny Chesney, Alan Jackson or the Zac Brown Band topping the country chart with this song.
"Love is on the Way" reached number 12 on the Billboard Top 40 in 1992 and transformed this heavy metal band into one-hit wonders.
Saigon Kick, along with Firehouse, represented one last gasp for hair metal before grunge sent all those bands' careers plummeting into a truckload of empty mousse bottles.
Eventually Dee Snider of one-hit wonders Twisted Sister (see "We're Not Gonna Take It") would come to the rescue by launching the "House of Hair" syndicated radio program where for a few hours each week he brings back the glory days of metal, while behind closed doors, plenty of Ratt and Def Lepard music still spins inside CD players or on turntables.
Like many one-hit wonders, Saigon Kick released multiple records but never came close to repeating their "Love is on the Way" glory. They were kicked to the curb but their biggest hit with its soaring three-part harmonies and tasteful and understated acoustic guitar solo remains an impressive legacy.
Read more about Saigon Kick here.
Hear: More heavy metal one-hit wonders
Buy Love Is on the Way by Saigon Kick
I'm a long-time student of the history of rock music and its performers, and my favorite branch of the rock music tree is heavy metal.
Filed under: 1990s, Rock · Tags: 1990s one hit wonder, 1992 1 hit wonder, 1992 one hit wonder, heavy metal, heavy metal ballad, heavy metal one hit wonder, Love is on the Way, Saigon Kick