» 1980s, Rock » Into the Night – Benny Mardones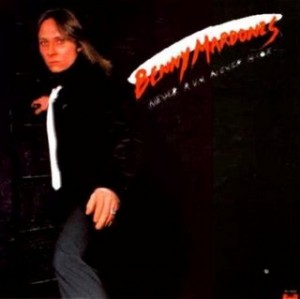 Most one-hit wonders hit the charts once. That's why they're called one-hit wonders.
Benny Mardones is one of the few artists to be a one-hit wonder twice – for the same song. In fact, only 10 songs have ever achieved that feat (we call it a legendary feat around here).
That song is "Into the Night" from 1980, which hit #11 that year and crept back into the Billboard Top 20 in 1989. Nine years later! That's a song with legs.
In 1980, Mardones was a working-class songwriter when he released his first record titled Never Run, Never Hide. "Into the Night" was the only song that charted and it became a staple of soft-rock stations then – and now.
Like a stereotypical episode of VH1's Behind the Music, too much success too soon ultimately led Mardones to become a drug addict and virtually disappear from the scene for years. But the song lived on throughout the country on radio stations everywhere.
The song is interesting to our ears for two reasons:
1. Everyone knows the song, but virtually no one can name the singer of "Into the Night," which leads leads directly to reason #2
2. In 1989, Scott Shannon, an Los Angeles DJ was doing a "Where Are They Now?" program. The number one request: who sang "Into the Night." Shannon started playing the song and, shockingly, it returned to the charts at #20.
That's two trips to the top 20 for one song. Say with me now: royalty check.
It is estimated that "Into the Night" has been played more than 4 million times in the U.S. alone, making it one of the most requested singles ever. Hear that? Ever.
Indeed, Mardones lives well off this single song to this day. Although sources say he has been diagnosed with Parkinson's Disease, which is a shame.
Someday Mardones will disappear into the night. But no matter when he goes, some radio station in America will likely be playing "Into the Night" as he leaves.
Listen to "Into the Night" by Benny Mardones
benny-mardones-into-the-night.mp3
Filed under: 1980s, Rock · Tags: 1980, ballad, Benny Mardones, one hit wonder, one-hit wonder ballad, Rock