» 1960s, Rock » In-a-Gadda-Da-Vida – Iron Butterfly
July 31st, 2011 | 2 Comments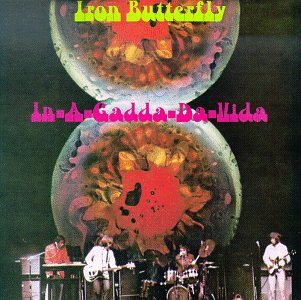 Iron Butterfly weren't so much metal as hard psychedelia; sounding sort of like a heavy Doors. But the San Diego band's signature song, the rambling, 17-minute "In-a-Gadda-da-Vida" (translation: "This Song Really is Much Too Long") was heavy for the time (1968) and influential in the development of metal.
The drum solo set thousands of teenage boys banging on school desks. DJs on the new "progressive" FM rock stations (the forerunner of today's album- and classic-rock formats) found the lengthy track perfect for playing when they needed a bathroom or pot-smoking break.
A greatly-edited single of the song was released and it charted in the lower reaches of the Billboard Top 40, peaking at Number 30. That makes Iron Butterfly one-hit wonders.
Incredibly, less than a year later, the single of "In-a-Gadda-da-Vida" was released again, (strike while the iron, er, uh, butterfly is hot, the old cliche goes) but this time the song didn't go anywhere near the Top 40, peaking at Number 68.
Listen to In-a-Gadda-Da-Vida by Iron Butterfly
Like many real butterflies, Iron Butterfly's lifespan on the pop chart was short, and "In-a-Gadda…" was their only Top 40 hit.
It was a far different story on the album chart, however. The identically-titled LP shot into the Top 10 and embedded itself there for months, peaking at Number 4. (Quick! Name the follow-up album: That one actually charted higher, at Number 3, but sold far fewer records overall. The answer: Ball.)
Here's some bonus trivia for you: the album In-a-Gadda-Da-Vida has sold more than 25 million copies. That puts that little record in the same category as The Joshua Tree by U2, Greatest Hits by Queen and Bridge Over Troubled Water by Simon and Garfunkel. That's some legendary company there.
Buy In-a-Gadda-Da-Vida by Iron Butterfly
I'm a long-time student of the history of rock music and its performers, and my favorite branch of the rock music tree is heavy metal.
Filed under: 1960s, Rock · Tags: 1960s one hit wonder, 1968, 1968 one hit wonder, 60s one hit wonder, heavy metal, in a gadda, in the gadda da vida, In-a-Gadda-Da-Vida, Iron Butterfly, psychedelia, psychedelic rock, rock one hit wonder