» 1980s, Rock » In a Big Country – Big Country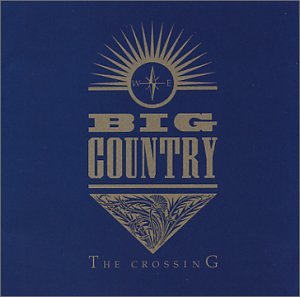 "In a Big Country" by Big Country is an iconic 1980s one-hit wonder and a lasting example of a distinctive sound transcending playlists, preferences or tastes.
That sounds awfully pretentious, so how about I dispense with all that crap and simply claim what "In a Big Country" really is: a great song.
Name me another pop song that features guitars that sound like Scottish bag pipes.
Name me another song that mixes a drum introduction that teases you into believing you are hearing Duran Duran's "Girls on Film" and just as quickly becomes a rock anthem with a muted guitar intro that soon becomes a jangly new wave pop song.
Name me another band whose collective members contributed to "Do They Know It's Christmas" by British one-hit wonder supergroup Band-Aid and also were key players on multiple solo hits by legendary Who guitarist, Pete Townshend ("Let My Love Open the Door" and "Slit Skirts").
Listen to In a Big Country by Big Country
The Scottish lads of Big Country had some serious musical chops and those chops were best realized on their only American hit when "In a Big Country" reached #17 on the Billboard Top 40 in 1983, making Big Country a one-hit wonder.
They're also Scottish one-hit wonders, one of my favorite one-hit wonder categories of all since for some reason, Scottish bands write exceptionally great pop songs.
Click to hear more Scottish one-hit wonders
As a result of that breakout hit, their Steve Lillywhite-produced debut album The Crossing sold more than 1 million copies in the UK and 500,000 copies in the United States. That makes The Crossing a Gold record.
Impressive.
Subsequent albums followed and although the songs were often solid, American listeners proved indifferent. Fast-forward to the 1990s and lead singer Stuart Adamson had descended into an ongoing battle with depression and alcoholism. Sadly, those conditions ultimately led to the hanging suicide of Adamson in Honolulu, Hawaii on December 16, 2001.
Big Country continues to play shows in 2011 with bass player Tony Butler now handling lead vocals. They're another example of a musically tight and critically acclaimed band that never quite found enough love from American listeners.
Watch In a Big Country by Big Country video
Buy In a Big Country by Big Country
Filed under: 1980s, Rock · Tags: 1983, Band Aid, Big Country, Do They Know It's Christmas, In a Big Country, New Wave, Pete Townshend, rock one hit wonder, Scottish, Scottish bands, Scottish one-hit wonder, Stuart Adamson, The Crossing, Tony Butler