» 1990s, Rock » I'll Never Let You Go (Angel Eyes) – Steelheart
May 27th, 2012 | Add a Comment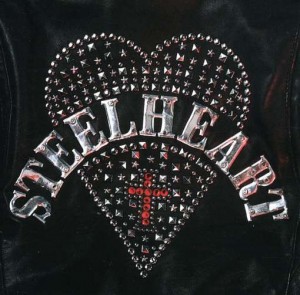 Although Steelheart and their hit "I'll Never Let You Go (Angel Eyes) sounded like a myriad of L.A. "hair bands," the band was actually from Norwalk, Connecticut.
Like many of their brethren, Steelheart rode the heavy-metal explosion that started in the mid-1980s and continued until 1992.
But the times they would soon be a-changin', and within a year of their only Top 40 hit in 1991, Steelheart, along with Warrant, Poison, Skid Row and all the others (save Bon Jovi, who would somehow manage to weather the oncoming storm) would quickly be rendered irrelevant when Nirvana's Nevermind crashed into the album chart, signaling a changing of the guard and the arrival of grunge.
Interestingly, though hair-metal largely disappeared, wasn't grunge just another name for metal?
Personally, In Utero by Nirvana is one of my favorite albums, with Nevermind only a step or two behind. But as mentioned in earlier articles, I would very quickly get tired of all the "angst," the "woe-is-me," the whining that followed like old garbage in Nirvana's wake, and that still plagues today's metal scene twenty years later, not to mention the complete lack of any decent guitar solos.
But back to Steelheart and the matter at hand. "I'll Never Let You Go (Angel Eyes)" peaked at Number 14 on the Billboard Top 40, yet was another one of those songs that "had legs," spending over six months on the Hot 100. "I'lll Never Let You Go (Angel Eyes) features lead singer Miljenko Matijevic who makes Geddy Lee of one-hit wonders Rush sound like a baritone (Dee Snider of Twisted Sister is always ready with some wisecrack when he plays this song on "House of Hair").
Listen to I'll Never Let You Go (Angel Eyes) by Steelheart
Though Steelheart never became a name brand in the United States, they were big in Japan and Hong Kong, where their records sold in big numbers.
Sadly for Steelheart, the band broke up after playing an ill-fated show in Denver, Colorado on Halloween night in 1992. They never reached the Billboard Top 40 again and remain heavy metal one-hit wonders, even though the band subsequently reformed a few times and released new music.
Hear more: Heavy metal one-hit wonders
As for lead singer Miljenko Matijevic, he ended up singing many lead vocals for Mark Wahlberg in the sort-of-Judas-Priest biopic, Rock Star.
In one more one-hit wonder connection, the drummer of the Rock Star band is Jason Bonham, son of Led Zeppelin drummer John Bonham. Astute listeners will recall that Jason Bonham would be considered a false one-hit wonder for "Wait for You" by Bonham that hit #55 on the Billboard Hot 100 in 1989 yet is likely the only song rock fans know from Bonham.
Hear more: Rock one-hit wonders
Watch the official video for I'll Never Let You Go (Angel Eyes) by Steelheart
Buy I'll Never Let You Go (Angel Eyes) by Steelheart
I'm a long-time student of the history of rock music and its performers, and my favorite branch of the rock music tree is heavy metal.
Filed under: 1990s, Rock · Tags: 1990s 1 hit wonder, 1990s one hit wonder, 1991 one hit wonder, Bonham, heavy metal, heavy metal one hit wonder, I'll Never Let You Go (Angel Eyes), Jason Bonham, John Bonham, rock one hit wonder, Steelheart, Wait For You