» 1990s, Rock » House of Pain – Faster Pussycat
April 4th, 2012 | Add a Comment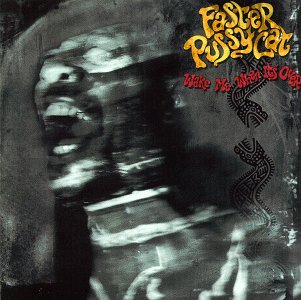 Today we honor Faster Pussycat and their one-hit wonder "House of Pain."
With songs such as "Cathouse," "Madam Ruby's Love Boutique" and the near-novelty "Bathroom Wall," a heavy metal cousin to "867-5309 (Jenny)" by Tommy Tutone, Faster Pussycat (named for a 1960s movie) was certainly one of the silliest bands to emerge from the Los Angeles "hair metal" scene of the 1980s.
"House of Pain," however, was a serious song: a power ballad about one of the band member's difficult relationship with his father that made the Top 40 in 1990. Having watched a close friend deal with a dad who wasn't exactly a candidate for "Father of the Year" awards while growing up, "House of Pain" struck a responsive chord, yet when paired with all the cornball sleaze-songs Faster Pussycat did, its impact was oddly blunted.
Hear more: Heavy metal one-hit wonders
"House of Pain" was Faster Pussycat's only Top 40 hit. Although it stalled at number 28 on the Billboard Hot 100 in 1990, the song was remarkably enduring: It was on the Hot 100 for a full 21 weeks, longer than any of the twenty chart-toppers by The Beatles or the eight by the Rolling Stones! An odd statistic indeed.
Listen to House of Pain by Faster Pussycat
And since you didn't ask, the name Faster Pussycat is indeed inspired by the Russ Meyers' movie Faster, Pussycat! Kill! Kill! And speaking of movies, you can catch interviews of Faster Pussycat in the fantastically fascinating movie The Decline of Western Civilization part 2 – The Metal Years directed by Penelope Spheeris. If you enjoy music documentaries, The Decline of Western Civilization part 1 – The Punk Years and The Decline of Western Civilization part 2 – The Metal Years are must-see movies.
Like so many one-hit wonders, Faster Pussycat soldiered on for a few more years, then broke up, then later reconciled to perform in front of progressively smaller audiences. As of 2012, they're still touring sporadically.
So we salute Faster Pussycat as heavy-metal one-hit wonders who left the world with an acoustic-driven power ballad that is a bookend to Kix's "Don't Close Your Eyes" as a metal song with a much heavier meaning than you probably expect.
Buy House of Pain by Faster Pussycat
I'm a long-time student of the history of rock music and its performers, and my favorite branch of the rock music tree is heavy metal.
Filed under: 1990s, Rock · Tags: Don't Close Your Eyes, Faster Pussycat, heavy metal, heavy metal one hit wonder, House of Pain, Kix, power ballad, rock one hit wonder