» 1970s, Rock » Hocus Pocus – Focus
Three words: Heavy metal yodeling.
You can't get more rock 'n' roll that that.
I defy you to come up with anything as cool. You could invent the hula hoop. You could invent the iPhone. You could invent disco, hip hop, Norwegian death metal or the Jonas Brothers. And you will still never, ever, ever come close to being as cool as Thijs van Leer, lead singer, keyboard player, flautist and songwriter for Dutch one-hit wonder band Focus.
Who else but the elf-like Thisjs (pronounced Thisjs) could invent heavy metal yodeling? No one. Not Bob Dylan. Not Jimi Hendrix. Not Kurt Cobain. Not Les Claypool or John Lennon or Madonna or Gwen Stefani or Biggie Smalls. No one.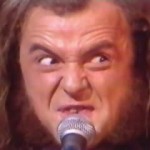 No amount of drugs, or fresh air, or positive daily affirmation sessions with Stuart Smalley or Richard Simmons could convince you that heavy metal yodeling was not only a good idea, but that it would sell records. Tons of them. In fact, "Hocus Pocus
" was so huge, it reached #9 on the Billboard charts in 1973 and transformed Focus into a one-hit wonder.
Hocus Pocus a "Dutch National Treasure"
Heavy metal yodeling by Focus is the most important thing you will see or hear this week. Or ever. United States presidents have long considered making next Tuesday "Heavy Metal Yodeling Day" to honor Thisjs (pronounced Thisjs).
This song is so great, it hit #9 on the Billboard Hot 100 in 1973. It is without question #1 on our list of "Best Dutch One-Hit Wonder Songs."
It's that important. My good Dutch friend Mike van Thiel tells me "Focus" is considered a "Dutch national treasure that should be guarded at all costs and only shared with select people who possess the right frame of mind and reverence for a song of such great beauty."
Friends, bow your head and prepare your ears for a sacrament of song. And click to hear more instrumental one-hit wonders
Watch the insanity that is "Hocus Pocus"
Buy "Hocus Pocus" from iTunes
Filed under: 1970s, Rock · Tags: 1973, Adam Lambert, Bob Dylan, Dutch one hit wonder, Focus, funny, Hocus Pocus, Instrumental, instrumental one hit wonder, John Lennon, novelty song, one hit wonder, Progressive Rock, Rock