» 1960s, Rock » Harlem Shuffle – Vigon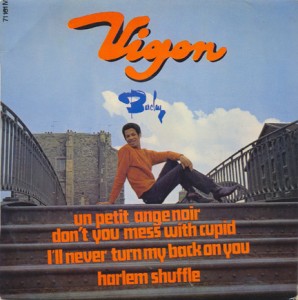 Editor's note: "Harlem Shuffle" is not a one-hit wonder. But the opening horn riff is part of a great hip-hop one-hit wonder and sometimes I feel compelled to write about songs that laid the foundation for one-hit wonders. So here it is.
I love 60s soul music. I love the horns and the shuffle and the groove and the soulful singing. I love it even more when video exists of long-forgotten songs. Songs like "Harlem Shuffle" by Vigon from 1967.
The Rolling Stones later remade this song and I never really liked it. I can't say I Love Vigon's version of "Harlem Shuffle" either. Perhaps the best version is the original by Bob and Earl. But I can say I love watching this video that shows five rhythmically challenged people shimmy and shake on boxes as Vigon prances and belts out this little and quite forgettable ditty.
Yet somehow, it's churning through my head. Probably because the song sounds like it belongs in a Quentin Tarantino movie.
And also because the opening horn riff is the same one that House of Pain used for "Jump Around" from 1992. Now that song is a classic one-hit wonder that lives on at sports events and "Best of Hip-Hop" playlists everywhere.
So watch and enjoy a little "Harlem Shuffle."
EDITOR'S NOTE: If these videos do not appear on your mobile device (phone, iPad, etc.), try them on your computer. They work).
"Harlem Shuffle" video by Vigon
"Harlem Shuffle" video by The Rolling Stones
Watch "Harlem Shuffle" by Bob and Earl
"Jump Around" video by House of Pain
Filed under: 1960s, Rock · Tags: 1967, 1992, Harlem Shuffle, House of Pain, Jump Around, one hit wonder, Rolling Stones, Vigon