» 1960s, Rock » Friday On My Mind – The Easybeats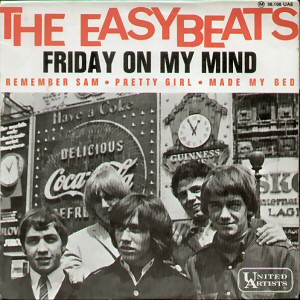 "Friday on My Mind" by The Easybeats is easily one of the greatest 1960s pop songs. And it's definitely the best 1960s pop song by an Australian band. Released in 1966, "Friday on My Mind" became a worldwide smash, reaching #1 in Australia, #6 in England and #16 in the U.S.A. It's a well-deserved hit. It was even voted the greatest Australian song of all time by Australasian Performing Right Association (whoever they are).
It also makes "Friday on My Mind" and The Easybeats one-hit wonders. Australian one-hit wonders to be precise.
While you may have heard the song before, what you may not know is that guitarist George Young is the older brother of Australian rockers Angus and Malcolm Young. Yes, the same Angus and Malcolm Young of AC/DC. George even produced AC/DC's first five albums.
So "Friday On My Mind" ultimately led to "Dirty Deeds Done Dirt Cheap." Who would have expected that back in 1966?
Listen to "Friday on My Mind" by the Easybeats
Easybeats-Friday-On-My-Mind.mp3
Buy "Friday on My Mind" by the Easybeats

Watch "Friday on My Mind" by The Easybeats
Watch "Dirty Deeds Done Dirt Cheap" by AC/DC
Filed under: 1960s, Rock · Tags: 1966, 1976, AC/DC, Angus Young, Australian, Australian one hit wonder, Bon Scott, Dirty Deeds Done Dirt Cheap, Easybeats, Friday on my mind, George Young, Rock