» 1980s, Rock » Fantasy – Aldo Nova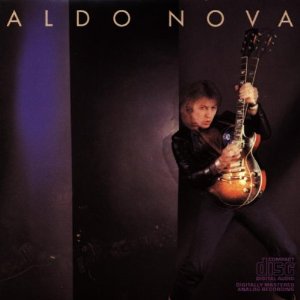 A quick joke for you…
Q: There were 10 copycats sitting on a fence, and one jumped off. How many were left?
A: None. They were all copycats.
That basic joke leads us to this very marginal entry in our look at heavy metal one-hit wonders, but "Fantasy" by Aldo Nova deserves a quick mention because the first time I heard it in 1982, my jaw dropped to the floor: It was such a blatant ripoff of the guitar-and-piano lick from Jefferson Starship's "Jane" (albeit juiced up ever-so-slightly) that to this day, I'm still surprised there were never any apparent legal ramifications from it.
A real nova is a stellar thermonuclear explosion, less violent than a supernova but still visible from hundreds of light years away, where it can appear from out of nowhere as a "new star" that soon fades away.
Aldo Nova came out of nowhere with "Fantasy," blindsiding the Top 40 and peaking at Number 23 with this, his only Top 40 hit.
Listen to Fantasy by Aldo Nova
His debut album (chock full of "Fantasy"-clones) was a surprise huge seller, reaching the Top 10 on the album chart without batting an eyelash. Continued success turned out to be a, er, fantasy and Aldo Nova disappeared as quickly as he showed up.
Hear: More rock one-hit wonders
Yet Nova wasn't finished completely as an artist since he ended up working with Bon Jovi and Celine Dion as a songwriter and wrote the best-selling single of 2003, "This is the Night" by American Idol runner-up, Clay Aiken. For many songwriters, that's a dream come true. Or at least a fantasy fulfilled.
As for Nova's song, "Fantasy," it's largely forgotten today, but that Jefferson Starship song still gets lots of radio play. I guess this proves that copycats seldom last. But Aldo Nova, we still salute you as a classic Canadian one-hit wonder.

Hear: More Canadian one-hit wonders
Buy Fantasy by Aldo Nova
Filed under: 1980s, Rock · Tags: 1980s 1 hit wonder, 1980s one hit wonder, 1982 1 hit wonder, 1982 one hit wonder, Aldo Nova, American Idol, Canadian, Canadian one-hit wonder, Fantasy, Rock, rock one hit wonder