» 1990s, Rock » Epic – Faith No More
May 8th, 2012 | Add a Comment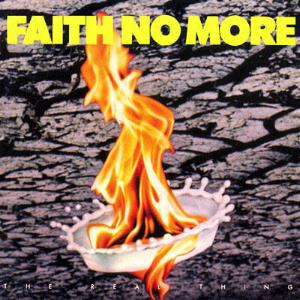 It was inevitable that somebody would marry heavy metal to rap at some point. Today we'll look at one of the most successful early rap-metal hybrids in "Epic" by Faith No More.
But first a little history.
The first rap-metal blend to become a hit was when Steven Tyler and Joe Perry guested on Run DMC's remake of Aerosmith's own "Walk This Way." The new version even charted a good deal higher (Number 4 vs. Aerosmith's Number 10). It also resurrected Aerosmith's career and their 1987 album Permanent Vacation was their biggest seller in years, paving the way for Pump and other out-of-the-box chart busters. We've included "Walk This Way" below.
Later, Anthrax introduced hip-hop elements into the dark world of thrash metal on their I'm the Man EP. Anthrax also teamed with hip-hop legends and Billboard Top 40 one-hit wonders, Public Enemy, to record a rockin' version of "Bring the Noise" for their Attack of the Killer B's album. You can hear it below, too.
Listen to Walk This Way by Aerosmith and Run D.M.C.
Listen to Bring the Noise by Anthrax and Public Enemy
But it was "Epic," a 1990 hit by one-hit wonders Faith No More that opened the door for much of the rap-metal garbage that followed in Faith No More's wake.
For the record (so to speak), "Epic" peaked at Number 9, but Faith No More would never reach the Top 40 again.
A remake of The Commodore's "Easy" managed to climb into the lower reaches of the Hot 100, and another song called "Midlife Crisis" missed the Hot 100 but topped the Modern Rock Tracks chart in 1992.
"Epic" was a huge hit and is ranked #30 on Vh1's 40 Greatest Metal Songs and, more important to readers of this site, "Epic" was named #67 on VH1's Greatest One-Hit Wonders List.
Listen to Epic by Faith No More
(If the link doesn't work, try this one
Like so many bands, Faith No More was hugely successful with their fans but never became a mainstream success; they broke up in 1998. Yet like so many bands, Faith No More found a way to reform in the late 2000s and continues to sporadically perform shows together where they inevitably play "Epic."
Editor's note: the following statement by Jim Barton doesn't necessarily represent the view of TopOneHitWonders.com or Michael Waterman who enjoys plenty of rap music and has great appreciation for hip-hop geniuses like Public Enemy and many other rap and hip-hop one-hit wonders.
Hear more: Hip-Hop one-hit wonders
Personally, I find rap an abomination (one common joke for rap enemies is "Music is like candy: you have to throw away the rappers") and rap/metal hybrids are equally unwelcome on my turntable. That said, without early rap/rock collaborations, you wouldn't have rap-metal artists such as Limp Bizkit, Linkin Park, Korn and others. That wouldn't be such a bad thing.
Buy Epic by Faith No More
I'm a long-time student of the history of rock music and its performers, and my favorite branch of the rock music tree is heavy metal.
Filed under: 1990s, Rock · Tags: 1990 1 hit wonder, 1990 one hit wonder, Epic, Faith No More, heavy metal, heavy metal one hit wonder, hip hop one hit wonder, Public Enemy, rap one hit wonder, rock one hit wonder, rock rap, Run D-M-C