» 1970s, Rock » Easy Livin – Uriah Heep
August 25th, 2011 | 1 Comment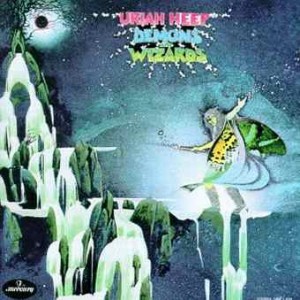 Uriah Heep (named for a character in Charles Dicken's Great Expectations) and Deep Purple are two of the earliest bands to introduce progressive-rock elements to heavy metal. Without these two groups, it would be difficult to imagine the existence of one-hit wonders Rush, Triumph, Queensryche, Metallica, Dream Theater, even Tool.
British rockers Uriah Heep were also one of the first groups to incorporate "swords 'n sorcery" lyrics in their songs and soon, songs about castles, kings and queens, dragons, wizards and witches became a staple of metal. (In particular, the late, great Ronnie James Dio wrote so many songs about these subjects, as well as rainbows, that it would drive his ex-bandmates in Rainbow and Black Sabbath up the walls until he found his niche with his own band, Dio.)
But Uriah Heep also wrote and performed conventional love songs, of which "Easy Livin'," the group's lone Billboard Top 40 hit, was one.
Listen to Easy Livin by Uriah Heep
"Easy Livin'" didn't exactly find the living easy in the Top 40; it only reached Number 39 and was on the survey for just three weeks. But that's still enough to qualify Uriah Heep as a one-hit wonder, and the song still manages to find its way onto the airwaves every once in a while.
Like most heavy metal bands, Uriah Heep was an albums band versus a singles group. So in the United States, they placed 7 albums on the Billboard Top 100 Albums charts. Even more remarkable, while the band released its first record in 1970, they were still going strong in 2011 when Uriah Heep released Into the Wild. That's 23 albums and counting and more than 30 million albums sold worldwide.
Bonus trivia: the cover of their 1972 album Demons and Wizards was designed by Roger Dean, who designed artwork for progressive rockers Yes, who are not one-hit wonders, but whose biggest hit was produced by Trevor Horn who was the songwriter and producer behind "Video Killed the Radio Star" by The Buggles and "Paranoima" by Art of Noise.
Buy Easy Livin by Uriah Heep
I'm a long-time student of the history of rock music and its performers, and my favorite branch of the rock music tree is heavy metal.
Filed under: 1970s, Rock · Tags: 1970s 1 hit wonder, 1970s one hit wonder, 1972, 1972 one hit wonder, 70s one hit wonder, Art of Noise, Easy Livin, heavy metal, heavy metal one hit wonder, New World Man, Paranoima, Queensryche, rock one hit wonder, Rush, The Buggles, Trevor Horn, Uriah Heep, video killed the radio star, Yes