» 1980s, Rock » Don't Close Your Eyes – Kix
March 11th, 2012 | Add a Comment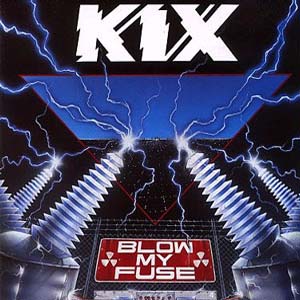 Teen suicide is a tragic part of life that unfortunately seems to be on the upswing. "Don't Close Your Eyes" by Kix is one of many teen-suicide anthems.
Back in the days when teachers and principals were concerned about gum instead of guns in schools, teen suicide was virtually unheard of. The notion that kids could take their own lives first reared its ugly head in the 1980s, thanks to two highly-publicized court cases involving parents whose teen sons committed suicide trying to blame Ozzy Osbourne and Judas Priest's music on it.
Ozzy's controversial song was titled "Suicide Solution" and both sets of parents ultimately lost their lawsuits.
Several songs have been written that take an anti-teen-suicide stance, the best of which is "The Pass" by Rush, an obscure cut from their Presto album that views the problem from the thoughtful, intellectual angle that Rush is famous for.
Others are the rather silly "Don't Try Suicide" by Queen, "Sins of Omission" by Bay Area thrash metalists Testament, and the hit power ballad "Don't Close Your Eyes" by Kix.
Listen to Don't Close Your Eyes by Kix
Kix was a Hagerstown, Maryland band that sounded like a cross between Motley Crue and Bon Scott-era AC/DC. Their first few albums were poor sellers, but their fourth LP, Blow My Fuse, came out at the height of pop metal's late 1980s popularity.
"Don't Close Your Eyes" is the big hit from Blow My Fuse, and in 1989, it was released as a single that fell just shy of the Top 10. "Don't Close Your Eyes" reached number 11 on the Billboard Top 40, which transformed Kix into a one-hit wonder.
Although Kix formed in 1977 and continues to tour well into the 2000s, they never became a household name–besides metal-heads and fans who remember "Don't Close Your Eyes."
Hold on, hold on tight
I'll make everything all right
Wake up don't go to sleep
I'll pray the Lord your soul to keep
Don't close your eyes
Don't close your eyes
Don't sing your last lullaby
Buy Don't Close Your Eyes by Kix
I'm a long-time student of the history of rock music and its performers, and my favorite branch of the rock music tree is heavy metal.
Filed under: 1980s, Rock · Tags: 1980s one hit wonder, 1989, 1989 1 hit wonder, 1989 one hit wonder, Don't Close Your Eyes, heavy metal, heavy metal one hit wonder, Kix, power ballad, rock ballad, rock one hit wonder