» 1970s, Pop, Rock » Crazy Horses – The Osmonds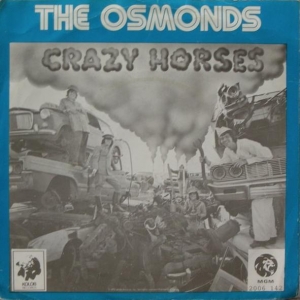 Editor's note: This song is not a one-hit wonder. Sometimes some songs just deserve a little love and attention.
The celebrity news this weekend is that Marie Osmond's 18-year-old son, Brian Blosil, committed suicide by leaping from a 15-story building. Awful story. Awful images. A crazy move and sad end to what seems to have been a troubled life.
Sadly, the song that has been running through my head all weekend is "Crazy Horses" by The Osmonds.
This rip-off of Led Zeppelin's "Immigrant Song" from 1972 is the most rocked-out song The Osmonds ever attempted (compare the opening guitar riffs of both songs for proof).
I'm not ashamed to admit I've always liked "Crazy Horses" for its oddball juxtaposition of clean-cut Mormon boys and rocked-out guitar riff. And dig the outfits in the video below. The Osmonds as inner-city pimps.
Listen to "Crazy Horses" by The Osmonds
osmonds-Crazy-Horses.mp3
Compare the guitar riff of "Crazy Horses" to "The Immigrant Song" by Led Zeppelin
led-zeppelin-Immigrant-Song.mp3
Osmonds Earn Most Gold Records in a Single Year
I love this little piece of trivia I'm going to drop now: in 1971, the collective Osmond family earned more gold records than any other band in a single year. More than The Beatles. More than The Jackson Five. The most ever in a single year.
Plus, between 1971 and 1973, The Osmonds, Donny Osmond, Marie Osmond and Jimmy Osmond notched 20 top-40 Billboard hits. Twenty songs in three years. Only the Bee Gees with 12 top-40 singles at the height of the disco era come close to matching that success. And The Osmonds still beat them.
Whether you love or hate The Osmonds, you have to respect their success. My two favorite Osmonds songs are "Crazy Horses" and "Yo-Yo."
Listen to "Yo Yo" by The Osmonds
Osmonds – yo-yo.mp3
"Crazy Horses" by The Osmonds
"Yo Yo" by The Osmonds
Buy "Immigrant Song" by Led Zeppelin

"Immigrant Song" by Led Zeppelin
Filed under: 1970s, Pop, Rock · Tags: 1971, Crazy Horses, Led Zeppelin Immigrant Song, Marie Osmond, The Osmonds, Yo Yo