» 1990s, Rock » Closing Time – Semisonic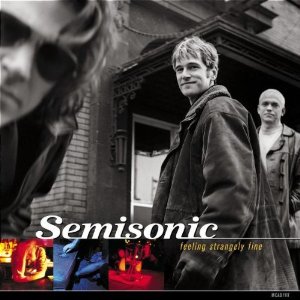 Last call at a bar is often a place of desperation.
It's particularly obvious if you're standing on the stage and looking at an audience that is urgently seeking love, or at least a few hours of affection.
In the early 1990s I spent lots of time in bars playing guitar in a cover band.
Stone cold sober.
One of the most interesting, fascinating and horrifying parts of most gigs was watching the animals at play. The alpha males would enter the bar and spy their prey. The alpha females would often repel the stalkers for hours, until alcohol, time, boredom, desperation, excitement, novelty or sheer tenacity broke down and he or she gave in and left the bar with someone whose name they may or may not know.
I don't care if you imbibe or not. But one of life's ultimate truisms is that people look better the later it gets and the more chemicals one consumes.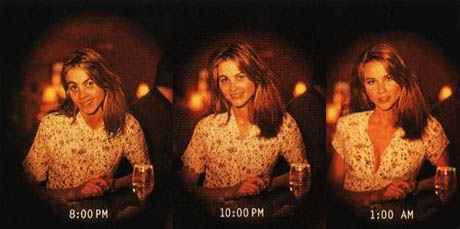 To this day, hearing "Closing Time" by Semisonic instantly evokes late night bar scenes better than any song I know. The only other sense that evokes such a powerful reaction is the smell of day-old spilled beer on a tile or cement floor. That smell instantly transports millions of people back to a bar, a fraternity chapter room, a dorm room or even their parents basement. It's ridiculously powerful.
Listen to Closing Time by Semisonic
Remember these lyrics?
Closing time – time for you to go out, go out into the world
Closing time – turn the lights up over every boy and every girl
Closing time – one last call for alcohol, so finish your whiskey or beer
Closing time – you don't have to go home but you can't stay here
CHORUS
I know who I want to take me home
I know who I want to take me home
I know who I want to take me home
Take me home
Closing time – time for you to go back to the places you will be from
Closing time – this room won't be open 'til your brothers or you sisters come
So gather up your jackets, and move it to the exits
I hope you have found a friend
Closing time – every new beginning comes from some other beginning's end.
The music and lyrics are powerfully evocative. They resonate enough to help "Closing Time" hit #11 on the Billboard Top 40 in 2008 and turn Semisonic into one-hit wonders.
VH1 placed "Closing Time" as the sixth greatest one-hit wonder of the 1990s.
Click to read the list of VH1's 40 Greatest One-Hit Wonders of the 1990s
"Closing Time" by Semisonic was also nominated for a Grammy Award for Best Rock Song in 1999. It didn't win. But it did propel sales of Feeling Strangely Fine to Platinum status, which means the record sold more than 1 million copies.
Click to hear more Grammy Award one-hit wonders
Pretty good for a Minneapolis band that has released five records and a single EP since 1995 but is currently on hiatus. Perhaps they will return one day. I doubt it. But I don't doubt that "Closing Time" will remain a haunting and evocative reminder of many late nights for millions of music listeners.
Buy Closing Time by Semisonic
Filed under: 1990s, Rock · Tags: 1998, acoustic music, Best Rock Song Grammy Award, Closing Time, Grammy Award, Minneapolis, rock one hit wonder, Semisonic, VH1, Vh1 Greatest one Hit Wonders of the 1990s