» 1970s, Rock » Cat Scratch Fever – Ted Nugent
September 22nd, 2011 | 3 Comments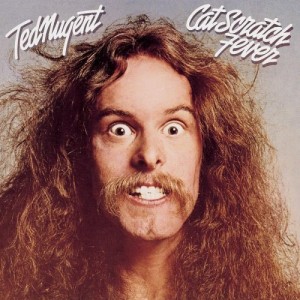 When Ted Nugent finally put to rest the Amboy Dukes and their psychedelic one-hit wonder, "Journey to the Center of Your Mind," the "Motor City Madman" became a solo artist on Epic Records. His self-titled debut album was a huge seller and featured one of his most famous songs, the 8-minute-plus "Stranglehold." His second solo album (my personal favorite), the blistering Free-For-All featured a pre-fame Meat Loaf on some of the songs. Yes, Meat Loaf and Ted Nugent was in the same band. Think about that for a few moments.
Ted Nugent's third album was the monster-selling Cat Scratch Fever. The title cut from that album was released as a single and became Ted Nugent's only solo Top 40 hit, scratching and clawing its way to number 30 on the Billboard Top 40 in 1977 and making Ted Nugent a one-hit wonder as a solo artist.
Listen to Cat Scratch Fever by Ted Nugent
"Cat Scratch Fever" still gets heavy airplay to the point that I personally find it tired and stale; one of those overplayed songs that as soon as the opening guitar riff comes over the car radio for the 15,396th time, my hand is immediately on a button for another station.
But recently, Texas metal band Pantera gave the old chestnut a much-needed shot (scratch?) in the arm, as they did an even heavier version of "Cat Scratch Fever" that's actually very good–and I'm not a big fan of Pantera or those other "nu metal" bands with the whining lyrics (I think the buzzword is "angst") "sung" with Cookie-Monster vocals (are they singing or throwing up into the mike?). But I digress.
Ted Nugent wasn't through with the Top 40, either.
Nugent teamed up with fellow one-hit wonder artists Tommy Shaw (Styx guitarist and one-hit wonder for the awful "Girls with Guns") and Jack Blades (Night Ranger) to form Damn Yankees, who almost topped the charts with "High Enough" (number 3 in 1990, which, alas, wasn't high enough to do the trick).
Two years later, Damn Yankees would have one more Top 40 hit with "Where You Goin' Now" which went to Number 20, thus saving Ted Nugent from being a three-time one-hit wonder. But you've got to give Nuge credit for finding a place on our rare two-time one-hit wonder list.
Buy Cat Scratch Fever by Ted Nugent
I'm a long-time student of the history of rock music and its performers, and my favorite branch of the rock music tree is heavy metal.
Filed under: 1970s, Rock · Tags: 1970s 1 hit wonder, 1970s one hit wonder, 1977 1 hit wonder, 1977 one hit wonder, Cat Scratch Fever, Damn Yankees, Girls with Guns, heavy metal one hit wonder, Rock, rock one hit wonder, Ted Nugent, tommy shaw, two time one hit wonder