» 2000s, Rock » Butterfly – Crazy Town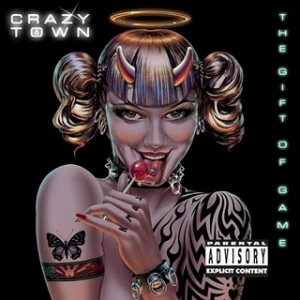 Some people credit Run D-M-C with the first rap rock song. If you're thinking of their collaboration with Steven Tyler and Joe Perry on Aerosmith's "Walk This Way," you are mistaken.
The first rap rock hit is "Rock Box" by Run D-M-C. But yes, "Walk This Way" is the song that made the boys famous way back in 1986. Who would have ever guessed Steven Tyler would go on to judge American Idol back then?
Since then, rap rock songs by artists like Beastie Boys, Public Enemy, Faith No More, Rage Against the Machine, Living Colour, the Red Hot Chili Peppers, Bloodhound Gang, P.O.D. and Limp Bizkit have appeared on the Billboard charts.
Some of the songs are classics. Others quickly forgotten.
Amazingly, the most successful rap rock song by a one-hit wonder band is "Butterfly" by Crazy Town. Don't remember that one? See if these lyrics bring it back:
Come my lady
Come come my lady
you're my butterfly
Sugar baby
If you turned on a radio in 2001 it was hard to escape "Butterfly" and Crazy Town. The distinctive riff and bouncy bass line gives the song away. But Crazy Town didn't write the riff. It's lifted from "Pretty Little Ditty" by The Red Hot Chili Peppers and makes two brief appearances in the song but anchors "Butterfly" and propelled that song to #1 on the Billboard Top 40 in 2001 and transformed Crazy Town from local Los Angeles band into a one-hit wonder. It's also one of only seven one-hit wonders to hit #1 in the 2000s.
Click to hear more Billboard number 1 hit songs
Years later, "Butterfly" is a love-it-or-hate-it song. Some listeners consider a rap rock classic. Others consider it one of the most annoying songs and worst one-hit wonders ever.
Click to hear more of the worst one-hit wonders
So what's your take on "Butterfly?" Love it? Hate it? Weigh in.
Listen to Butterfly by Crazy Town
Listen to "Pretty Little Ditty" by the Red Hot Chilli Peppers
Filed under: 2000s, Rock · Tags: #1 hit, #1 song, 2001, Billboard number one hit, Butterfly, Crazy Town, Faith No More, number one song, P.O.D., Public Enemy, rap one hit wonder, Rap rock, rock one hit wonder, Run D-M-C, worst one hit wonders