» 1970s, Rock » Blitzkreig Bop – The Ramones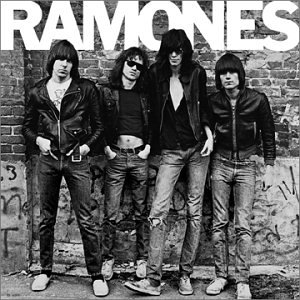 Editor's note: Blitzkreig Bop by The Ramones is not a one-hit wonder. It never charted. But it should have and sometimes songs like these deserve a little love. So here it is.
Hey ho, let's go
Hey ho, let's go
Hey ho, let's go
Hey ho, let's go!
Those four words are possibly the most distinctive opening lines to any song. It's "Blitzkreig Bop
" by The Ramones, of course, arguably the world's first true punk band.
"Blitzkrieg Bop" is the first song off the Ramones' first album The Ramones, released during 1976. It sounded nothing like the songs on the radio at that time, which may explain why not a single song from The Ramones was ever played on the radio (at least until the 1980s).
Here's a short list of the top 20 Billboard hits from 1976. You'll notice lots of disco. And soft rock. The edgiest thing was either "Play That Funky Music" or "Bohemian Rhapsody." Punk rock doesn't yet exist.
Billboard Top 20 Songs – 1976
01. Silly Love Songs » Wings
02. Don't Go Breaking My Heart » Elton John & Kiki Dee
03. Disco Lady » Johnnie Taylor
04. December, 1963 (Oh, What A Night) » Four Seasons
05. Play That Funky Music » Wild Cherry
06. Kiss And Say Goodbye » Manhattans
07. Love Machine (Part 1) » The Miracles
08. 50 Ways To Leave Your Lover » Paul Simon
09. Love Is Alive » Gary Wright
10. A Fifth Of Beethoven » Walter Murphy & The Big Apple Band
11. Sara Smile » Daryl Hall & John Oates
12. Afternoon Delight » Starland Vocal Band
13. I Write The Songs » Barry Manilow
14. Fly, Robin, Fly » Silver Convention
15. Love Hangover » Diana Ross
16. Get Closer » Seals & Crofts
17. More, More, More » Andrea True Connection
18. Bohemian Rhapsody » Queen
19. Misty Blue » Dorothy Moore
20. Boogie Fever » Sylvers
"Blitzkreig Bop
" is fast, loud, fun. It features two verses and a chorus, all sung three times each in 2 minutes and 12 seconds. It's also #92 on Rolling Stone magazine's "Rolling Stone magazine's 500 Greatest Songs of All Time."
Sadly, the band's three founding members are all dead and gone (two from cancer; one from a heroin overdose…someone had to die in a stereotypically rock 'n' roll manner). But the power of a perfect two-minute pop song lives on.
Watch the Ramones from the movie "Rock 'n' Roll High School"
Blitzkrieg Bop lyrics
Hey ho, let's go
Hey ho, let's go
Hey ho, let's go
Hey ho, let's go
They're piling in the back seat
They're generating steam heat
Pulsating to the back beat
The blitzkrieg bop
Hey ho, let's go
Shoot 'em in the back now
What they want, I don't know
They're all revved up and ready to go
Hey ho, let's go
Hey ho, let's go
Hey ho, let's go
Hey ho, let's go
Repeat 3x
Filed under: 1970s, Rock · Tags: 1976, Blitzkreig Bop, punk, Ramones, Rock