» 1970s, Rock » Black Betty – Ram Jam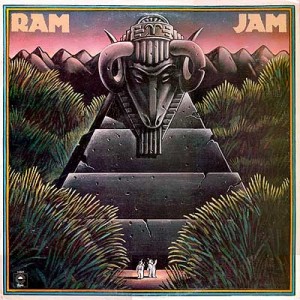 Black Betty was buried deep, deep in the back of my mind. But here it is today for your amusement. Released in 1977, it reached #18 on the Billboard singles charts and then pretty much disappeared except for a few classic rock radio stations with enough guts and moxie to blast "Black Betty" with a vengeance.
That makes "Black Betty" by Ram Jam a classic one-hit wonder.
But you don't care about that and neither do I.
"Black Betty" most unintentionally funny video ever
What we should all care about is this video from 1977. Remember, this is pre-MTV when so so-called "performance clips" outside an actual rock show were rare. But not for the boys of Ram Jam who know that facial hair, bandanas, tight white pants and open shirts are THE way to get the 1970s ladies who are oddly attracted to motorcyles, bad boys and big rock riffs.
This video is a rare look into an era when looks didn't matter. It's an era when dual-guitar solos attracted high-class, Pabst Blue Ribbon-swilling groupies. And an era when over-the-counter prescrption eyeglasses were the touch of the common man that made Ram Jam favorites with other over-the-counter-prescription-eyeglass-wearing, overly hairy, bar-band-rock-dudes.
Get out your Bic lighter and raise it in the sky for "Black Betty
."
"Black Betty" by Ram Jam video
Ponder the lyrics of "Black Betty" by Ram Jam
whoa, black betty (bam-A-lam)
whoa, black betty (bam-A-lam)
Black betty had a child (bam-A-lam)
The damn thing gone wild (bam-A-lam)
She said "I'm worrin' outta my mind" (bam-A-lam)
The damn thing gone blind (bam-A-lam)
I said oh black betty (bam-A-lam)
whoa, black betty (bam-BA-lam)
whoa, black betty (bam-BA-lam)
whoa, black betty (bam-BA-lam)
She really gets me high (bam-BA-lam)
You know that's no lie (bam-BA-lam)
She's so rock steady (bam-BA-lam)
She's always ready (bam-BA-lam)
whoa, black betty (bam-BA-lam)
whoa, black betty (bam-BA-lam)
Whoa, black betty (bam-BA-lam)
Whoa, black betty (bam-BA-lam)
She's from birmingham (bam-BA-lam)
Way down in alabam' (bam-BA-lam)
Well' shes shakin' that thing (bam-BA-lam)
Boy she makes me sing (bam-BA-lam)
Whoa, black betty (bam-BA-lam)
Whoa, black betty
BAM-BA-LAM
Filed under: 1970s, Rock · Tags: 1977, Black Betty, funny, one hit wonder, Ram Jam, Rock