» 1980s, Rock » Beds Are Burning – Midnight Oil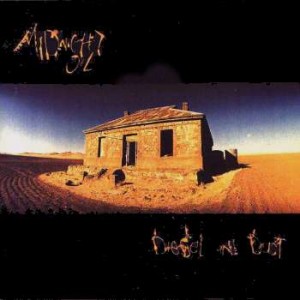 When the oddly-titled "Beds Are Burning" became a US Top 40 hit in 1988 (peaking at Number 17), it apparently even took at least one member of the very Australian band Midnight Oil by surprise.
After all, a song about the plight of the Aboriginal peoples at the hands of the colonists would seem to be an unlikely one to gain a foothold on the US charts, as Midnight Oil's songs were about the mistreatment of the indigenous people Down Under as well as environmental and nuclear concerns.
In 1984, when the group were superstars in Australia, singer Peter Garrett even ran for a seat in the Australian Parliament under the Nuclear Disarmament Party ticket–and almost won!
Of course, several songs about the similar fate of Native Americans became hits in the US, such as the only chart-topper by Paul Revere and the Raiders "Indian Reservation," while Iron Maiden's "Run to the Hills" was never a chart single but is Maiden's best-known song.
Propelled by a driving, throbbing bass lick that jumps out of a good pair of speakers (it sounds especially terrific on vinyl), "Bed Are Burning" drove its parent album Diesel and Dust nearly into the Top 20 on the charts. In fact, "Beds Are Burning" reached No. 17 on the Billboard Top 40 in 1988.
Listen to Beds Are Burning by Midnight Oil
Alas, "Beds are Burning" represents Midnight Oil's only appearance on the Billboard Top 40, thus earning a spot on our collection of one-hit wonders. Many years later, Peter Garrett left the band to continue his political career.
But the album, Diesel and Dust, that was home to "Beds are Burning" was named the 13th best album of the 1980s by Rolling Stone magazine.
It was an instant classic and still sounds great today.
Trivia note: Many American listeners to this song might be puzzled by the lyrics about diesels steaming and the desert living and breathing at 45 degrees, which is considered somewhat cold in our Fahrenheit scale. The answer, of course is that Midnight Oil is singing about 45 degrees Celsius–about 113 degrees F.
BONUS SONG: Now that you've heard "Beds Are Burning," take a few extra minutes to enjoy "Power and the Passion" by Midnight Oil. A tremendous early song by the band that features Peter Garrett's spasmodic dancing.
Filed under: 1980s, Rock · Tags: 1980s one hit wonder, 1988 1 hit wonder, 1988 one hit wonder, Australian, Australian one hit wonder, Beds are Burning, Midnight Oil, protest song