» 1970s, Rock » Bang a Gong (Get It On) – T. Rex
August 17th, 2011 | 1 Comment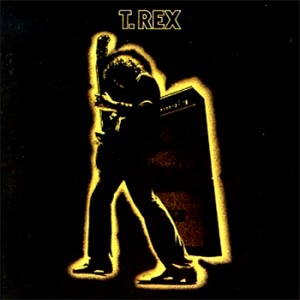 T. Rex is another band that had an admittedly flimsy association with heavy metal, but I'm including them in our look at heavy metal one-hit wonders as they were a large part of the UK glam-rock scene of the early '70s, and as such were highly influential.
It's easy to see where Kiss and Queen, for example, got their ideas. And later, the so-called "hair bands" of the '80s and '90s like Poison or Winger were influenced by the likes of Kiss and Queen as much as Led Zeppelin.
T. Rex were, for a few years, perhaps the most popular artist in their U.K. homeland as songs like "Ride a White Swan," "Get it On," "Jeepster," "Telegram Sam" and others rocketed to the top of the British charts from 1971 to 1974. In fact, you could almost say they were briefly as giant as their original namesake, Tyrannosaurus Rex.
Let by singer-songwriter and guitarist Marc Bolan who was sadly killed in a car accident in 1977, which ended T. Rex as a band, the only T. Rex song that managed to crack the US market was "Get it On," and at that, it was first retitled "Bang a Gong" as there had been another recent hit titled "Get it On" by Chase, a jazz-fusion group who reached #24 with "Get It On" in 1971.
Listen to Bang a Gong (Get It On) by T. Rex
"Bang a Gong" was T. Rex's only Top 40 hit, peaking at Number 10 in early 1972 and making them a one-hit wonder. They're also one of those bands that radio thinks only did the one song, but "Jeepster" and "Mambo Sun" are two other stellar tracks from the Electric Warrior album, which, alas, is also flawed by a bunch of nonsense (try "Cosmic Dancer" for an example of T. Rex at its worst).
As you probably know, The Power Station remade "Bang a Gong (Get It On)" in 1985 and took the song to #9 on the Billboard Top 40, which was one position higher than T. Rex's original version. And you can connect the one-hit wonder dots between T. Rex and The Power Station with "Take It Easy" by Andy Taylor, a one-hit wonder that saw the former member of Duran Duran and guitarist of The Power Station reach #24 on the Billboard Top 40 in 1986 with that little hit that sounds remarkably similar to "Bang a Gong (Get It On)."
As we often say in one-hit wonderland, these songs are all connected somehow.
Buy Bang a Gong (Get It On) by T. Rex
I'm a long-time student of the history of rock music and its performers, and my favorite branch of the rock music tree is heavy metal.
Filed under: 1970s, Rock · Tags: 1970s 1 hit wonder, 1970s one hit wonder, 1972 one hit wonder, Andy Taylor, Bang a Gong (Get It On), British, British band, British one-hit wonder, dead rock star, heavy metal one hit wonder, Marc Bolan, rock one hit wonder, singer songwriter, T. Rex, Take It Easy, The Power Station