» 1960s, Rock » All Along the Watchtower – Jimi Hendrix
July 20th, 2011 | 3 Comments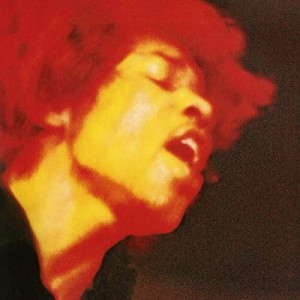 Editor's note: Another post from Jim Barton, our resident rock and metal expert.
Cue the "Twilight Zone" theme.
What could be written about Jimi Hendrix that hasn't already?
Suffice to say that in his hands, the electric guitar became truly electric; his revolutionary playing style turned thousands of heads. Without Hendrix, the likes of Led Zeppelin, Black Sabbath, Aerosmith, Metallica, AC/DC and boatloads of other metal bands would never have existed. Decades after his death, "Purple Haze," "Foxey Lady," "Crosstown Traffic," "Hey Joe" and a host of other songs still dominate classic- and album-rock airwaves.
But look it up: None of the above songs, not even the mighty "Purple Haze," ever made the Billboard Top 40!
Jimi Hendrix's only Top 40 hit was his dramatic rendition of Bob Dylan's "All Along the Watchtower," which peaked at Number 20 in 1968.
According to the rules of the one-hit wonder game, this makes Jimi Hendrix a genuine one-hit wonder (even Vanilla Fudge, for example, managed a second Top 40 hit)!
Even in the topsy-turvy world of the Hot 100, where '50s rock icon Chuck Berry has to wait until 1972 for his first Number 1 hit (the forgettable, if slightly risque "My Ding-a-Ling"), Creedence Clearwater Revival lands no fewer than five Number 2 hits–but zero Number 1's–and Kermit the Frog has as many Top 40 hits as Jimi Hendrix or, say, Janis Joplin or Rush or Lou Reed or The Grateful Dead, this is a bizarre statistic indeed.
Doo-dee-dee-doo doo-dee-dee-doo doo-dee-dee-doo doo-dee…
Though it's Hendrix's only Top-40 hit, it's widely considered a classic. In fact, Rolling Stone Magazine named Jimi Hendrix's version of "All Along the Watchtower" number 48 on their list of the 500 Greatest Songs of All Time.
Listen to All Along the Watchtower by Jimi Hendrix
http://youtu.be/bng3agUOYiI
Listen to a live version of All Along the Watchtower by Jimi Hendrix
http://youtu.be/l6Z7LR8Z9_o
I'm a long-time student of the history of rock music and its performers, and my favorite branch of the rock music tree is heavy metal.
Filed under: 1960s, Rock · Tags: 1968, AC/DC, All Along the Watchtower, heavy metal, Janis Joplin, Jimi Hendrix, Led Zeppelin, Lou Reed, rock one hit wonder, Rolling Stone Magazine 500 Greatest Songs of All Time, Rush, The Grateful Dead