» 1990s, Rock » A Shot in the Arm – Wilco
Editor's note: Wilco is not a one-hit wonder.
Musicians have a natural affinity to die young. Reading the news today I see that Jay Bennett died in his sleep at the age of 46. Not truly young. But not old either.
You probably don't know Jay Bennett. But you may know the band he played in from 1994 through 2001: Wilco.
I've always liked Wilco. Even as they veered from alt-rock supergroup (their first album is really an extension of the Uncle Tupelo brand–minus lead singer Jay Farrar) to Beatleesque songwriters to critical post-modernistic crafstmen (yes, I agree that anyone who uses "post-modern" in a sentence is a pretentious ass and should be scorned).
Summerteeth by Wilco
I really liked Wilco's 1999 record titled Summerteeth
that was largely written, played and produced by Jay Bennett and Jeff Tweedy (Bennett was the multi-instrumentalist; Tweedy the songwriter and singer).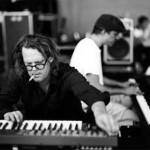 The album didn't sell all that well (200,000+ copies). But I recommend you pick it up because it's a true gem. At turns joyful and poppy yet also mournful and sad. It has it all. Sometimes in the same song. Like "Shot in the Arm." It's a sad song about about a relationship breaking apart. But it sounds as peppy and happy as your happiest pop song.
Since learning about Bennett's death, "Shot in the Arm" has been cycling through my head all day.
So rather than mourn Jay Bennett's untimely death, enjoy these happy, peppy sounds he penned from Summerteeth
.
Listen to "A Shot in the Arm" by Wilco
Buy "A Shot in the Arm" by Wilco
Buy Summerteeth
from iTunes
Filed under: 1990s, Rock · Tags: 1999, dead rock star, Power Pop, RIP, Rock, Summerteeth, Wilco