» 1980s, Rock » A Million Miles Away – The Plimsouls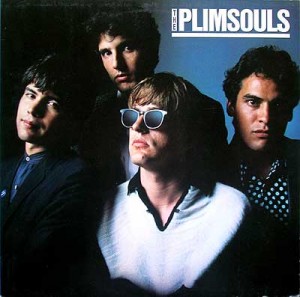 Editor's note: This song is not a true one-hit wonder. "A Million Miles Away" didn't hit the Billboard Top 40. But it is the song most people associate with The Plimsouls, if they know the band at all. Call it a false one-hit wonder.
Another power pop classic here from the early 1980s. "A Million Miles Away" was written by Peter Case, Joey Alkes and Chris Fradkin. Case was a co-conspirator with Paul Collins in the late 1970s San Francisco/Los Angeles power pop scene. They formed an early New Wave band called The Nerves who broke up long before they ever became famous. Collins then went on to form The Beat (listen to "Rock 'n' Roll Girl" by The Beat) while Case formed The Plimsouls. Both bands met some success. The Plimsouls became the much more famous of the two bands. But you're likely still wondering who The Plimsouls are since because you likely don't know their music.
But I'm a betting fool that you just might know "A Million Miles Away" from the early '80s teen flick Valley Girl. It's the first movie where a guy named Nicolas Coppola was billed as Nicolas Cage. The movie is largely forgettable. I watched it when I was in junior high and have never been able to make it through the movie since. But the soundtrack is a classic and the song that stays with me is "A Million Miles Away" performed by The Plimsouls. Watch the clip below of a very young Nic Cage sporting his edgy new wave rebellious style as he seduces the prim and proper Valley Girl.
The Plimsouls first two records, now compiled into a single CD titled The Plimsouls Plus is a great power pop record that includes a bunch of strong songs. I've included "A Million Miles Away" below to whet your appetite for more. Plus, the video to "A Million Miles Away."
Like most early '80s new wave/power pop bands, The Plimsouls released some great songs, then broke up far too soon. But to my ears, songs like "A Million Miles Away" never grows old.
Listen to "A Million Miles Away" by The Plimsouls
A Million Miles Away - The Plimsouls
Listen to "I Want You Back" by The Plimsouls
I Want You Back - The Plimsouls
"A Million Miles Away" by The Plimsouls
A Million Miles Away lyrics
Friday night I'd just got back
I had my eyes shut
Was dreaming about the past
I thought about you while the radio played
I should have got moving
For some reason I stayed
I started drifting to a different place
I realized I was falling off the face of your world
And there was nothing left to bring me back
I'm a million miles away
A million miles away
A million miles away
And there's nothing left to bring me back today
I took a ride, I went downtown
Streets were empty
There was no one around
All the faces that we used to know
Gone from the places that we used to go
I'm at the wrong end of the looking glass
Trying to hold on to the hands of the past and you
And there's nothing left to bring me back
I'm a million miles away
A million miles away
A million miles away
And there's nothing left to bring me back today
Filed under: 1980s, Rock · Tags: 1983, A Million Miles Away, one hit wonder, Paul Collins, Peter Case, Power Pop, Rock, The Beat, The Plimsouls, Valley Girl