» 1990s, Pop » You Get What You Give – New Radicals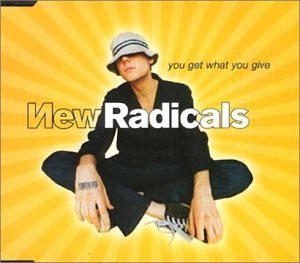 I don't care what anyone says: "You Get What You Give" is the single greatest pop song of the 1990s. For sure it's the greatest pop song of 1990. It's that good. And that timeless. To my ears, it sounds like it was released in 1974 by Todd Rundgren. Or 1980 and "Set Me Free" by Utopia. Or 1984 by World Party, owners of a one-hit wonder in "Ship of Fools." Or 1998 by New Radicals in a throwback to the great power pop bands of the 1970s and 1980s.
Gregg Alexander, front man of New Radicals, is an exceptional singer-songwriter with a gift for a killer and distinctive hook. Besides "You Get What You Give," Alexander also wrote "The Game of Love" by Santana and Michelle Branch that earned Alexander a Grammy Award in 2003. And he wrote "Inner Smile" by Texas that was used in the popular film, Bend It Like Beckham.
Listen to both songs closely and you'll hear distinctive Gregg Alexander vocal trademarks like a soaring vocal line within the chorus. Brilliant, joyous stuff.
Click to hear more Grammy Award one-hit wonders
As for New Radicals, they released a single album titled Maybe You've Been Brainwashed Too. It was a big hit and sold over 1 million copies turning it into a Platinum record. Not all of the record is perfect, but the good songs like "You Get What You Give" and "Someday We'll Know" and "Mother We Just Can't Get Enough" are terrific tunes. "You Get What You Give" only reached #36 on the Billboard Hot 100, but those who heard the song embraced it and still love it to this day.
As for "You Get What You Give," here is a short list of its honors:
Over one million plays on U.S. radio
#440 on Blender's list of "The 500 Greatest Songs Since You Were Born"
#64 on VH1's list of the Greatest One-hit Wonders of All-Time"
#90 on VH1's "100 Greatest Songs of the 90s"
New Radicals broke up after a single album, forever locking them in as a 90's one-hit wonder. But I'll say it again: "You Get What You Give" is the single greatest pop song of the 1990s. If you disagree, let's hear your winner.
Listen to You Get What You Give
Bonus songs by Gregg Alexander
Listen to Game of Love by Michelle Branch
Listen to Inner Smile by Texas
Filed under: 1990s, Pop · Tags: 1999, Game of Love, Grammy Award, Michelle Branch, one hit wonder, Power Pop, Santana, Ship of Fools, Todd Rundgren, Utopia, World Party