» 1980s, Pop » With You I'm Born Again – Syreeta and Billy Preston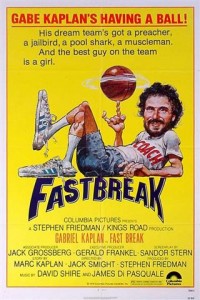 The 1980s were huge for one-hit wonder ballads. Sensitive, touching songs, often from movie soundtracks.
"With You I'm Born Again" comes from the 1979 movie "Fastbreak" starring Gabe Kaplan (Mr. Kotter from "Welcome Back Kotter" for those paying attention to these pop cultural crossroads).
I vaguely remember the movie being about a guy from the old neighborhood returning to his old school to teach a bunch of hooligans how to play basketball. Any similarities to the plot of "Welcome Back Kotter" where a guy from the old neighborhood returns to his old school to teach a bunch of hooligans how to read is purely coincidental and I'm sure had nothing to do with Gabe Kaplan being cast in the role of basketball coach.
But I digress.
Billy Preston and Syreeta's Enduring Duet
There is a love scene during this movie and I'm pretty sure "With You I'm Born Again" is playing in the background.
The song is a duet between Syreeta and "the fifth Beatle" Billy Preston. Syreeta was a Motown Records artist but never really had a hit of her own. But she was savvy enough to marry Stevie Wonder, yes, THE Stevie Wonder, and penned a bunch of hits with him including "If You Really Love Me" and "Signed, Sealed, Delivered (I'm Yours)" by Stevie and The Spinners' "It's a Shame." Three classic songs that should have a proud place in every music collection.
Stevie and Syreeta soon divorced but continued to work together. But Syreeta's success as a solo artist was limited at best.
Until she hooked up with Billy Preston to record "With You I'm Born Again" in late 1979. The single hit #4 on the Billboard Top 100 and Syreeta's career appeared to be on the climb. She nearly reached the top 40 again with "Quick Slick" (#41 in 1982), which would have disqualified her from this list. And that would be sad because then we would have no chance to talk about Gabe Kaplan, Welcome Back Kotter, Stevie Wonder or Billy Preston.
And if you're wondering about the "fifth Beatle" reference for Billy Preston, wonder no longer. Billy played piano on Let It Be, the last record ever released by The Beatles.
Sadly Syreeta died on July 6, 2004 of congestive heart failure after battling cancer. She was only 57 years old.
Listen to "With You I'm Born Again"
by Syreeta and Billy Preston
01 With You I'm Born Again.mp3
Filed under: 1980s, Pop · Tags: 1980, ballad, Love Song, one hit wonder, one hit wonder love song, one-hit wonder ballad, Pop