» 1980s, Pop » Who'll be the Fool Tonight – Larsen/Feiten Band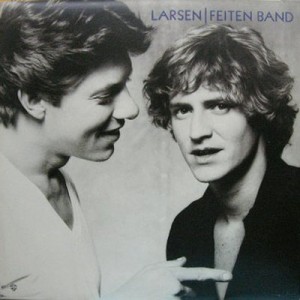 "Who'll be the Fool Tonight" by the Larsen/Feiten Band has to be on Toto's forgotten third album titled Turn Away.
Or maybe it's on their second album, Hydra.
Or maybe I heard it as b-side from Steely Dan's 1977 masterpiece, Aja.
Or possibly it's an out take from one of Boz Scaggs' late 1970s records.
No matter what late 1970s or early 1980s pop reference you choose, "Who'll be the Fool Tonight" is immediately recognizable–even if you've never heard the song before.
Let me try to explain why.
It has that bouncy low end.
It has horns.
It has the Nile-Rogers-Chic-influenced-individual-note guitar lines throughout the entire song (though some would argue that guitarist Buzz Feiten actually influenced Niles Rogers).
It has the David Paich-influenced quarter-note pounding piano background (though some might argue that Neil Larsen's keyboard playing influenced David Paich of Toto and countless studio musicians).
And it has those sweet two-part harmonies on the pre-chorus and chorus.
Put it all together and the song instantly resonated with 1980 Billboard Top 40 listeners who pushed "Who'll be the Fool Tonight" all the way to #29 on the Billboard Top 40 in the fall of 1980.
Listen to Who'll be the Fool Tonight by Larsen/Feiten Band
http://youtu.be/-gXlsDVEGog
Neil Larsen and Buzz Feiten are renowned session players who played on "Chuckie's in Love" by Rickie Lee Jones as well as their own album titled Full Moon back in 1972. They were monster studio guys who have long lists of recording credits, yet only recorded a single album as the Larsen/Feiten Band.
Larsen/Feiten Band made the requisite appearance on Solid Gold (enjoy the video below).
They notched their single Billboard Top 40 hit and then, like so many one-hit wonders, they disappeared. At least to pop listeners, though liner note readers saw their names pop up as contributors on records by artists ranging from Bob Dylan to Stevie Wonder to Aretha Franklin to Bette Midler and Randy Newman to Felix Cavaliere and Kenny Loggins. These two guys have had exceptional careers as studio musicians, sidemen, producers and more. Their recording credits are all the proof you need.
More One-Hit Wonder Connections
No one-hit wonder overview would be complete without connecting the dots between the Larsen/Feiten Band and other one-hit wonders. The first is the contributions of Buzz Feiten to Felix Cavaliere's only top 40 hit as a solo artist on "Only a Lonely Heart Sees" also from 1980.
If you remember that song, you truly know your 1980s pop songs because it's a pretty forgettable tune.
You can also find contributions from Buzz Feiten on multiple albums by one-hit wonder Randy Newman. His biggest hit, of course, is "Short People" from 1978.
I have no memory of "Who'll be the Fool Tonight" being played on the radio. But the first time I heard it, it felt so familiar I had to double-check my stack of singles to ensure I hadn't purchased a cut-rate 45-rpm record back in the early 1980s.
I hadn't.
But Neil Larsen and Buzz Feiten, I salute you. You managed to have a song you wrote and recorded back in 1980 worm its way into my head and stay there for a week while I played "Who'll be the Fool Tonight" again and again trying to place where and how I knew it.
And you know what? I/m a big fan of your song now.
Watch Who'll be the Fool Tonight by Larsen/Feiten Band on Solid Gold
http://youtu.be/_OPT_AxueVA
Buy Who'll be the Fool Tonight by Larsen/Feiten Band
Filed under: 1980s, Pop · Tags: 1980 1 hit wonder, 1980 one hit wonder, 1980s one hit wonder, Buzz Feiten, Felix Cavaliere, Larsen/Feiten Band, Neil Larsen, Only a Lonely Heart Sees, Randy Newman, Short People, Steely Dan, Stevie Wonder, Toto, Who'll Be the Fool Tonight