» 1980s, Pop » Whirly Girl – OXO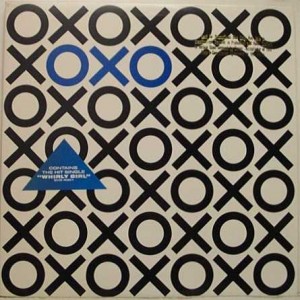 A big slab of peppy 1980s pop music for you today.
"Whirly Girl" by OXO is one of the bounciest ditties ever to grace the Billboard Top 40. We haven't counted how many times they say "Whirly Girl" in the song. But it's a lot. A whole lot.
The song was originally about a "Worldly Girl" but adding that "d" to the mix made the chorus too chunky and difficult to song. So they abbreviated it to "Whirly Girl" and pop music history was made with the only song to ever use the phrase "Whirly Girl."
The synthpop "Whirly Girl" reached #28 on the Billboard Top 40 in 1983. The rest of the OXO record tanked and I recall seeing lots of copies in the cutout bin throughout the 1980s. People weren't sure if OXO was a new wave band, a pop band or a bubblegum rock band.
Click to hear other 1980s one hit wonders
No matter what you think about the band or where they fit in the rock 'n' roll spectrum, you have to love this song. Turn it up loud, then dance the next 3 minutes with reckless abandon. And when you finish, listen to "My Girl" by Chiliwack, another perfectly written early '80s pop song that is easy on the ears.

Click to read Whirly Girl lyrics
And take a few moments to ponder the impact of powerful lyrics like these that can change your life (or not):
Whirly whirly whirly whirly girl
Whirly girl whirly girl
Whirly whirly whirly whirly girl
Whirly girl whirly girl
Ooo, whirly whirly
Ooo, whirly whirly
Whirly whirly whirly whirly girl
Whirly girl
Watch her go go go
Watch her go go go, oh
Watch her go go go
Watch her go go go, oh
Listen to "Whirly Girl" by OXO
Filed under: 1980s, Pop · Tags: 1983, bouncy, Chilliwack, New Wave, one hit wonder, Pop, Synthpop