» 1980s, Pop » When I'm With You – Sheriff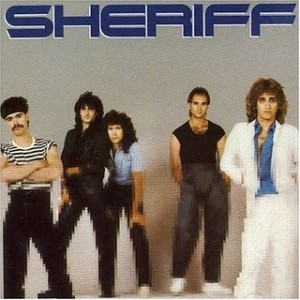 The late 1980s and 1990s gave the world big hair, big drums and power ballads. It seemed everyone got into the power ballad mix with songs often focused on coming home or feelings of home or home sweet home…you get the picture. Exhibit A, B and C are Journey ("Open Arms" and "Faithfully"), Ozzy Osbourne ("Mama I'm Coming Home"), Motley Crue ("Home Sweet Home"). These songs were big on emotion and included soaring vocal lines, clanging keyboards and heartfelt lyrics. But they may pale in comparison to today's entry by Sheriff that not only features the requisite soaring and heartfelt vocals, but the longest note in a pop song according to the Guiness Book of Records.
Take that Ozzy, Vince Neil and Steven Perry.
The final note of "When I'm With You" by lead vocalist Freddy Curci lasts a full 26 seconds. Try that at home. Seriously, try to hold a note, especially a high one, for more than 15 seconds and you'll likely pass out or at least get lightheaded.
The story behind "When I'm With You" is much better than a world record, however. The song was released in 1983 by Sheriff, hit #61 on the Billboard Hot 100 but number 8 in the band's native Canada. Depressed about their prospects, they broke up. "When I'm With You" was merely a Sheriff footnote for the few fans that followed the band.
Click to read "When I'm With You" lyrics
A #1 Hit Six Years After the Song is Released
Amazingly, six years later in 1988, a Las Vegas disc jockey started playing "When I'm With You" and when other radio stations around the country piled on, Sheriff suddenly found themselves sporting the #1 song on the Billboard Hot 100. They only had one problem, half the band refused to reunite to capitalize on the song's popularity.
Click to hear other Billboard number-one hit one-hit wonders
So, like the best enterprising musicians, lead singer Curci and guitarist Steve DeMarchi cobbled together a new band called Alias and released a sister song to "When I'm With You" with "More Than Words Can Say." It featured the same soaring vocals, dual guitar solo and Curci's trademark long notes and sensitive singing. Oh yeah, it reached #2 in 1990, which made Curci and DeMarchi two-time, one-hit wonder artists in two bands in two years. Pretty impressive stuff.
Sheriff isn't the only band who benefited from a disc jockey breathing new life into an old song. Read the story behind "I've Never Been to Me" by Charlene and "Into the Night" by Benny Mardones. Two songs that became hits long after they were originally released.
One-hit wonder ballads bounce to the sound of their own drummer.
Listen to "When I'm With You"
Filed under: 1980s, Pop · Tags: #1 hit, #1 song, 1989, Alias, ballad, Benny Mardones, Billboard number one hit, Charlene, I've Never Been to Me, Into the Night, Love Song, number one song, one hit wonder love song, one-hit wonder ballad, power ballad, Sheriff