» 1970s, Pop » Welcome Back – John Sebastian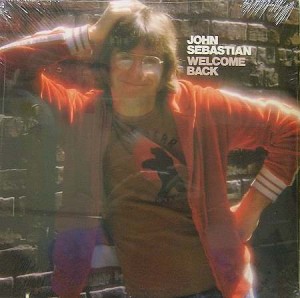 If you were a kid in 1976, Welcome Back Kotter was the greatest show on TV. Better than Happy Days. Better than Good Times. Better than All in the Family.
And the theme song, "Welcome Back" by John Sebastian, was a staple on AM radio stations. America fell in love with the Sweathogs that featured Gabe Kaplan and the legendary, Vinnie Barbarino, i.e., John Travolta.
Vinnie was the man. With his feathered hair, massive Goody comb in his back pocket and his swagger, nearly every kid in American wanted to become Vinnie Barbarino when they grew up (none of us wanted to be Arthur Horshack).
If the phrase, "Up your nose with a rubber hose" means anything to you, you know Welcome Back, Kotter. If not, well, I would hate to say you really missed out on the greatest TV show ever produced. But it doesn't stand up as strong as some of its contemporary shows. But it was GREAT in its day.
Click to hear more TV show one-hit wonders
Listen to Welcome Back by John Sebastian
But "Welcome Back" by John Sebastian has aged quite well. That's not really that surprising when you realize that the singer/songwriter of this number one Billboard hit was also the songwriter and leader of The Lovin' Spoonful, an inductee into the Rock 'n' Roll Hall of Fame. Perhaps you know two of their biggest hits: "Do You Believe in Magic" and "Summer in the City."
People hadn't heard much from Sebastian after he left the Spoonful in 1968. But that all changed in early 1976 when "Welcome Back" became a massive hit that was played hourly on hit radio stations. Americans embraced the TV show and the song and "Welcome Back" reached #1 on the Billboard Top 40 in 1976, making John Sebastian a one-hit wonder.
The song reached gained new life in 2004 when rapper Mase used it as the basis of his #32 Billboard hit titled, "Welcome Back."
To my ears, Sebastian's version still sounds good, albeit with a heavy 1970s singer-songwriter vibe. But you don't hear it on the radio anymore. And you don't see reruns of Welcome Back, Kotter on TV either.
They've both faded into relative obscurity.
So Mr. Sebastian, on behalf of Top One-Hit Wonders.com, Welcome Back.
Filed under: 1970s, Pop · Tags: #1 hit, #1 song, 1976, Billboard number one hit, John Sebastian, John Travolta, number one song, singer songwriter, TV show, TV show one hit wonder, Welcome Back Kotter