» 1970s, Pop » Video Killed the Radio Star – The Buggles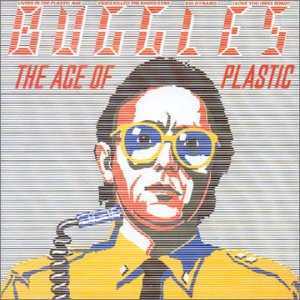 Everyone knows the most common piece of trivia around "Video Killed the Radio Star." It was the first video played on MTV.
Let's get past that and celebrate The Buggles for what they really were: a breeding ground for one of England's most amazing music producers ever. Mr. Trevor Horn.
The Buggles is a studio creation between Geoff Downes and Trevor Horn (actually, a third guy named Bruce Wooley was in the mix at the beginning and actually shares a songwriting credit for "Video Killed the Radio Star." But the meat and potatoes of The Buggles is Horn and Downes).
Geoff Downes played keyboard while Horn produced and played just about everything else. Plus he sang. They wrote "Video Killed the Radio Star" and when it became a minor hit, they produced a full-length record called "The Plastic Age."
I adore this record. Seriously. I adore this record. Pick up a copy and I'm certain if you love "Video Killed the Radio Star" you won't be disappointed. "Living in the Plastic Age," "Clean Clean" and "Elsetree" are the standout tracks. But I also dig "I Love You (Miss Robot)" and "Johnny on the Monorail." This is a great new wave record. In fact, I would call it a must-hear new wave record.
"Video Killed the Radio Star" hit #40 on the Billboard Hot 100 in 1979. So by Toponehitwonders.com standards, it just squeeks onto our lists.
Click to hear more British One-Hit Wonders
Do yourself a favor: find a copy of "The Plastic Age" and listen to it today. You can ignore The Buggles second record (really a Trevor Horn solo joint) titled Adventures in Modern Recording. I would love to hear your thoughts on The Plastic Age. Is it as brilliantly quirky new wave pop as I remember? Or did I just love the record when I was young and it really doesn't hold up to first-time listeners. Please, share your comments.
Read "Video Killed the Radio Star" lyrics
The Buggles Join Yes
This is where the history of The Buggles gets interesting. In 1980, progressive rock legends Yes were trying to record a new album and, as typical of Yes, inner-band fighting reached one of many boiling-over points. So they broke up (for about the 15th time…they would break up (or evolve) about 250 times more over the next 30 years. Seriously, if you want to see the most complex band history ever, find a flowchart of Yes band members. It's more complicated than trying to track down all of Mormon church leader Brigham Young's 54 wives and children.) But I digress.
Yes hired Geoff Downes on keyboards and Trevor Horn on vocals and they recorded an album titled Drama. Yes fans either love it or hate it. There is no middle ground. My favorite part about the album is that Yes recorded a Buggles song titled "I am a Camera" and re-titled it "Into the Lens." The truth is always stranger than fiction.
Yes joining The Buggles is like having current progressive rock legends Tool hire The Jonas Brothers as lead singers and songwriters. It just wouldn't happen (although we would love to hear what it sounded like!).
Yes fans booed Trevor Horn off the state during the ill-fated Yes Drama tour. And Horn wisely decided to give up performing and start producing. This is where the story gets really interesting.
Horn Produces ABC, Propaganda, Frankie Goes to Hollywood, Yes and Seal
Without warning, Buggles founder and former Yes singer becomes a hit-making machine for a gaggle of British bands you know and quite possibly love. It starts with a band called Dollar. If you're American, you've likely never heard "Mirror, Mirror." If you're British, you know Dollar for their four top 20 singles. But let's move along to the songs and artists you do know.
Horn next produced The Lexicon of Love by ABC. That record had two American Top 40 hits in "The Look of Love" and "Poison Arrow." It's a terrific record, but Horn was just getting started.
In 1983, Horn re-joined Yes in the studio and co-wrote Yes's biggest-ever single and only number-one American chart hit, "Owner of a Lonely Heart." That cutting-edge production and sound at the time? Trademark Trevor Horn.
His next production effort and supreme studio creation was a little Liverpudlian band called Frankie Goes to Hollywood. For a short time in 1984, Frankie was arguably the biggest band in the world. At least they were the most hyped. "Relax" and "Two Tribes" were the standout tracks from Welcome to the Pleasuredome. Not a completely great record, but a record you should hear sometime in your life just to get a taste of Horn's brilliant production skills.
In 1984, Horn was asked to produce "Do They Know It's Christmas" by Band Aid. He was too busy but did loan his studio. But he did record the b-side where the artists wish you a happy Christmas. So we're giving him half-credit for that brilliant one-hit wonder as well.
In 1985 Horn produced German band Propaganda's first and influential record titled A Secret Wish. Again, this is a record you should hear at least once in your life to hear his sonic brilliance. His sounds aren't as revolutionary today as they were in the 1980s, but his ear for melody and hit song structure was nearly unparalleled in the 1980s (at least if you liked synth-driven music that sounds nothing like Depeche Mode or New Order).
Horn also co-founded Art of Noise who had a modern rock/new wave hit with "Close to the Edit" and a #37 Billboard Top 40 hit with "Paranoimia" featuring the vocals of Max Headroom (remember that early computer-generated head concept?). That makes Horn a three-time one-hit wonder. Not many people can match that.
But Horn also mixed in a few serious efforts, including a Grammy-award-winning session for Seal that yielded "Kiss from a Rose," in 1994. That song landed Record and Song of the Year awards.
Horn also produced the controversial Russian band Tatu and their huge international hit "All the Things She Said." You may have forgotten the song but I'm certain you remember the video. It was, shall we say, a bit controversial for its time.
The man has the Midas touch. So Mr. Horn, we salute you and your production and songwriting brilliance. And yes, we still adore The Plastic Age by The Buggles and "Video Killed the Radio Star."
Listen to "Video Killed the Radio Star"
Listen to "Relax" by Frankie Goes to Hollywood
Listen to "The Look of Love" by ABC
Listen to "Owner of a Lonely Heart" by Yes
Listen to "Paranoimia" by Art of Noise
Listen to "Tempus Fugit" by Yes (with The Buggles)
Listen to "Kiss from a Rose" by Seal
Filed under: 1970s, Pop · Tags: 1979, Art of Noise, Band Aid, British, British band, British one-hit wonder, MTV, New Wave, Synthpop, The Buggles, Trevor Horn, Yes